The Colonel's chicken has demonstrated its universal appeal, and Yum China Holdings Inc's (NYSE:YUMC) second-quarter earnings, today, will shed light on progress in the Chinese market.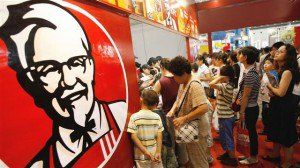 Heavy capital expenditures with lower-than-expected return on capital in the years leading up to the IPO and multiple food safety scandals during that period, cast an uncertain cloud over the future of Yum! Brands, Inc. (NYSE:YUM) in China.
But after a positive first quarter that assuaged those concerned with historically lumpy performance (restaurant margin expansion and same store sales growth), YUMC stock has been rewarded handsomely.
Overall, Yum China has had an enviable post-spinoff run. Since last October when it spun-off from its parent company, YUM, shares have made major gains, up 54%. CEO Micky Pant's purchase of 100,000 YUMC common shares at a price of $31.16 per share on April 7, 2017 gave further confidence to investors.
So after this run, how much higher can YUMC stock go?
YUMC's Digital and Delivery Strategy
The Daojia deal announced in May is proof of YUMC's commitment to executing on its digital and delivery strategy. Daojia is "an established online food delivery service provider focusing on higher-end orders in large...
More