Prima Biomed Ltd. PBMD announced that a new clinical study, INSIGHT, on its lead candidate IMP321 has received regulatory approval for initiation.
The approval was granted to its German partner, the Institute of Clinical Cancer Research by Paul-Ehrlich-Institut (PEI), the Federal Institute for Vaccines and Biomedicines for the German Federal Ministry of Health. Moreover, the ethics committee of the company's partner has also approved the study.
Prima's share price movement so far this year shows that the company has underperformed the Zacks classified Medical-Biomedical/Genetics industry. Specifically, the stock declined 17.9% during this period, while the industry gained of 7%.

Coming back to the latest news, INSIGHT is an open-label phase I study evaluating the feasibility and safety of three different administrations of IMP321, viz. intra-tumoral, intra-peritoneal, and subcutaneous injections in advanced stage solid tumor entities. The study will enroll up to 40 patients in this study group.
The study is the first of its kind and will investigate whether IMP321, a LAG-3Ig fusion protein, can activate the antigen presenting cells located inside the tumor to boost the body's immune response on directly injecting into a solid tumor site.
We remind investors that in Jan 2017, the company started dosing patients in a phase IIb AIPAC study evaluating IMP321 in combination with Celgene Corporation's CELG Abraxane (paclitaxel), or Abraxane plus placebo in patients with metastatic breast cancer. Moreover, IMP321 is also being evaluated, in combination with Merck & Co., Inc.'s MRK PD-1 checkpoint inhibitor Keytruda, in a phase I study (TACTI-mel) for the treatment of unresectable or metastatic melanoma.
In Dec 2016, the company reported positive interim data from the AIPAC (phase II) and TACTI-mel studies demonstrating potential of IMP321 in treating multiple types of cancer.
Going forward, we expect investor focus to remain on further updates by the company on its lead candidate, IMP321.
Prima BioMed Ltd Price and Consensus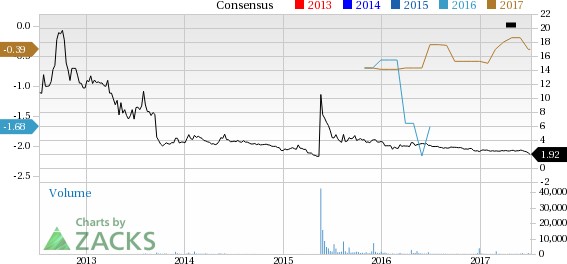 Prima BioMed Ltd Price and Consensus | Prima BioMed Ltd Quote
Zacks Rank & Stock to Consider
Currently, Prima carries a Zacks Rank #3 (Hold).
A better-ranked stock in the health care sector is Enzo Biochem, Inc. ENZ with a Zacks Rank #1 (Strong Buy). You can see the complete list of today's Zacks #1 Rank stocks here.
Enzo Biochem's loss estimates narrowed from 12 cents to 7 cents for 2017 and from 11 cents to 3 cents for 2018 over the last 30 days. The company posted a positive earnings surprise in each of the four trailing quarters with an average beat of 55.83%. Its share price has risen 62.4% so far this year.
Will You Make a Fortune on the Shift to Electric Cars?
Here's another stock idea to consider. Much like petroleum 150 years ago, lithium power may soon shake the world, creating millionaires and reshaping geo-politics. Soon electric vehicles (EVs) may be cheaper than gas guzzlers. Some are already reaching 265 miles on a single charge.
With battery prices plummeting and charging stations set to multiply, one company stands out as the #1 stock to buy according to Zacks research.
It's not the one you think.
Want the latest recommendations from Zacks Investment Research? Today, you can download 7 Best Stocks for the Next 30 Days.
Click to get this free report
Merck & Company, Inc. (MRK): Free Stock Analysis Report
Celgene Corporation (CELG): Free Stock Analysis Report
Enzo Biochem, Inc. (ENZ): Free Stock Analysis Report
Prima BioMed Ltd (PBMD): Free Stock Analysis Report
To read this article on Zacks.com click here.
Zacks Investment Research