Despite tough retail environment, volatility in tourist spending and macroeconomic headwinds, Coach, Inc. COH posted better-than-expected third-quarter fiscal 2017 bottom-line results. The adjusted earnings of 46 cents a share beat the Zacks Consensus Estimate by a couple of cents, thereby resulting in a positive earnings surprise of 4.5% and marking the 13th straight quarter of earnings beat. The quarterly earnings also increased roughly 4.5% year over year.
Net sales of this New York-based company came in at $995.2 million, down about 4% on a reported basis and 3% on a constant currency basis. Sales growth were hurt by 150 basis points on account of management's efforts to elevate the Coach brand's positioning in the North American wholesale channel by lowering promotional events and door closures. We noted that the top line fell short of the Zacks Consensus Estimate of $1,018 million.
Coach registered fourth consecutive quarter of positive comparable-store sales at its North American segment. The company witnessed healthy growth across directly-operated Europe and Mainland China operations.
The company is undergoing a brand transformation and is introducing modern luxury concept stores in key markets. The acquisition of Stuart Weitzman has been accretive to its performance, and is being viewed as a significant step in its efforts toward becoming a multi-brand company. Management highlighted that net sales for the Coach brand aggregated $915 million (down 4%), while that of Stuart Weitzman brand totaled $80 million (up 1%) for the quarter.
Coach's shares are up over 7% during pre-market trading hours. We noted that in the past six months, the stock has gained 9.8%, while the Zacks categorized Textile-Apparel Manufacturing industry to which it belongs has fallen 7.7%.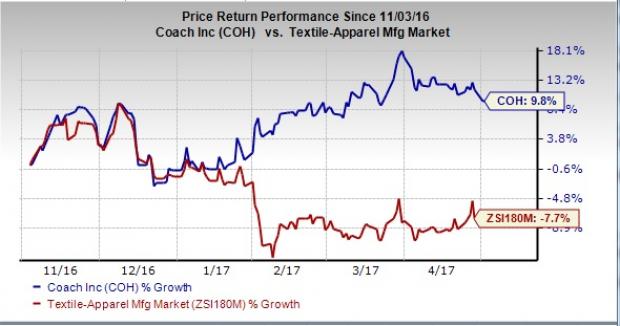 Behind the Headline
Total North American Coach brand sales declined 5% on both reported and constant currency basis to $474 million. Direct sales fell 2%. In spite of the adverse impact of the shift in timing of Easter, both North American aggregate and bricks and mortar comparable store sales jumped about 3%. On both POS and net sales basis, North American department stores sales plunged approximately 40%.
International Coach brand sales decreased 4% to $430 million from the year-ago quarter figure. Sales in Greater China fell 2% in dollar terms but jumped 2% on a constant currency basis attributable to positive comparable store sales and sturdy performance in Mainland China, offset by continued sluggishness witnessed across Hong Kong and Macau.
Sales in Japan advanced 2% in dollar terms but fell 1% on a constant currency basis. Sales for the rest of the direct operations in Asia witnessed low-double digits decline on a reported and constant currency basis, while sales in the directly operated channels in Europe remained sturdy, marching at a double-digit rate on a constant currency basis.
Consolidated gross profit declined 1% to $705.7 million, however, gross margin increased 190 basis points to 70.9%. Adjusted operating income came in at $162 million, up 7% from the prior-year quarter figure, while operating margin expanded 160 basis points to 16.3%. Management continues to expect operating margin in the band of 18.5% to 19% for fiscal 2017.
Store Update
During the quarter, Coach closed 10 locations in North America, thereby taking the count to 424. In Japan, total number of locations was reduced to 184 due to the closure of 7 locations. In Greater China, the addition of 7 new locations and the closing of 1 increased the total count to 197. Across Asia (Other), store count decreased to 103 owing to the opening of 1 store and closing of 2 stores. In Europe, the store count jumped to 47 following the opening of 7 stores. There were 82 Stuart Weitzman stores at the end of the quarter.
Other Financial Details
Coach ended the quarter with cash, cash equivalents and short-term investments of $1,891.9 million, long-term debt of $591.8 million and shareholders' equity of $2,891.9 million.
Guidance
Management continues to envision low-single digits increase in fiscal 2017 revenue, including the impact of currency translation. The company continues to anticipate double-digit growth in both net income and earnings per share for the fiscal year. Interest expense is expected to be about $20 million for the fiscal year.
Zacks Rank & Key Picks
Currently, Coach carries a Zacks Rank #3 (Hold). Investors interested in the retail space may consider some better-ranked stocks such as Aaron's, Inc. AAN and The Children's Place, Inc. PLCE both flaunting a Zacks Rank #1 (Strong Buy), and Best Buy Co., Inc. BBY carrying a Zacks Rank #2 (Buy). You can see the complete list of today's Zacks #1 Rank stocks here.
Aaron's delivered an average positive earnings surprise of 10.6% in the trailing four quarters.
The Children's Place delivered an average positive earnings surprise of 39% in the trailing four quarters and has a long-term earnings growth rate of 8%.
Best Buy delivered an average positive earnings surprise of 27.7% in the trailing four quarters and has a long-term earnings growth rate of 10.8%.
5 Trades Could Profit ""Big-League"" from Trump Policies
If the stocks above spark your interest, wait until you look into companies primed to make substantial gains from Washington's changing course.
Today Zacks reveals 5 tickers that could benefit from new trends like streamlined drug approvals, tariffs, lower taxes, higher interest rates, and spending surges in defense and infrastructure. See these buy recommendations now >>
Want the latest recommendations from Zacks Investment Research? Today, you can download 7 Best Stocks for the Next 30 Days.
Click to get this free report
Aaron's, Inc. (AAN): Free Stock Analysis Report
Children's Place, Inc. (The) (PLCE): Free Stock Analysis Report
Best Buy Co., Inc. (BBY): Free Stock Analysis Report
Coach, Inc. (COH): Free Stock Analysis Report
To read this article on Zacks.com click here.
Zacks Investment Research