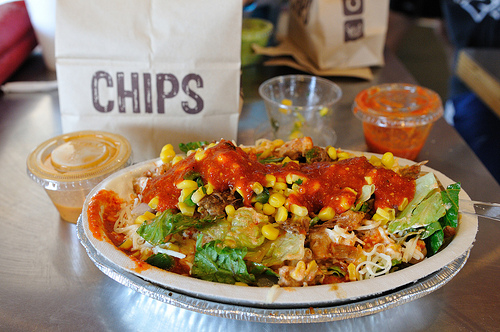 Chicken may soon be even more popular at Chipotle (NYSE: CMG) than it already is.
The uber-popular fast causal brand has raised its beef prices 4% to 6% in an attempt to keep up to heightened market prices, according to Business Insider. Currently, market beef prices are up because of a global draught that is affecting cattle.
Moving forward, all Chipotle salads, tacos, burritos and bowls that contain steak or barbacoa will see raised prices. Business Insider reports the company has been selling "conventionally raised" beef in some locations in order to make up for the lack of product.
"But lately, we have been wrestling with a particularly vexing issue regarding this beef. Over the last five years, as our restaurant count has grown from about 800 restaurants to more than 1,600, so have our demand for all of the ingredients we use. Sometimes the existing supply of the premium meats we serve is unable to meet our growing demand," Chipotle's CEO wrote last year, according to Business Insider.
Further, over the past view months Chipotle has had issues producing its carnitas, or pork option, as well. This issue stemmed from ethics issues violated by the company's supplier.

According to Business Insider, this is not the first time the Mexican grill has raised its prices. Unlike this time, last year prices spiked due to the increasing costs of dairy and avocados.
Chipotle has a huge fan base, particularly with millennials that are looking for a quick, healthy alternative to traditional fast foods like McDonald's (NYSE: MCD) and Taco Bell (NYSE: YUM). I doubt the increase, although bringing it up to a different dollar amount, will deter customers from ordering their sacred burrito bowls on their lunch breaks.
Similar trends are visible with hugely popular brands. Starbucks (NASDAQ: SBUX), for example, raising their prices constantly. However, its numbers remain high, and likely will. 
For more business and financial news, click here.
*This is editorial content and expresses the opinion of the author.