The Amazon model of burning countless amounts of cash in hopes of one day reaching profitability has fully arrived at Netflix, which moments ago reported earnings of $0.38 missing consensus expectations of $0.63 wildly on soaring expenses, and yet the stock is soaring.
Of course, in keeping with the New Paranormal tradition, NFLX did decide to double its bottom line EPS using pro forma addbacks, and for some incomprehensible reason added back FX impact to its bottom line:
Our strong performance led to overall operating income that exceeded our projections ($97m actual versus $79m forecast). Net income was negatively affected by currency-related transaction losses included in other expense; excluding these forex losses, Q1 EPS would have been $0.77 vs. our $0.60
forecast and our actual EPS of $0.38.
... which at $33.7 million was nearly 150% greater than the actual earnings, resulting in a non-GAAP EPS of $0.77.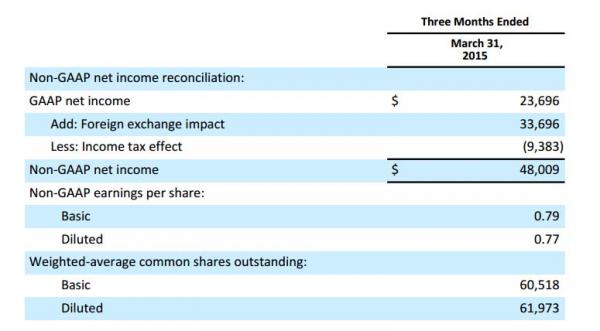 However, the reason why the stock is up more than 10% in the aftermarket is because subscriber additions jumped more than expected, with 2.283 million domestic subs added and 2.6 million international, well above the 2.28 million expected, and as a result the foreign subscribers are now half of the domestic, and up 100% from December 2013.
This is what Reed Hasting had to say about the subscriber growth:
During Q1, higher-than-forecast net adds and US revenue, coupled with lower-than-forecast content spending, resulted in a US contribution margin of 31.7%, ahead of our 30.1% estimate. In 2015, we expect to run ahead of our US contribution margin growth target of 200 bps/year on average because a greater share of global and original content costs will be absorbed by existing and new international territories as we continue to expand globally (since we allocate global content costs by geography).

 

In addition, starting in Q2 we intend to shift some of our US marketing budget to international to take advantage of the substantial available growth opportunities. This, in the short term, drives down international contribution profits and drives up US contribution profits. We are still targeting 40% contribution margin in the US in 2020.

 

Our international segment was fueled by continued strong growth across our 50+ countries as well as a successful March 24 launch in Australia and New Zealand, which adds about 8 million  broadband households to our addressable market. In ANZ, Netflix benefited from high consumer awareness, a fervent fan base for original series like House of Cards and Orange Is The New Black and operator relationships with Optus and iiNet, the second and third largest broadband providers. We expect international Q2 net adds of 1.90 million, up 70% vs. last year. Later in 2015, we will launch additional markets, starting with Japan.
Where does NFLX think subs are going: it expects to add 600K in the US and another 1.9mm abroad, making foreign growth the primary driver for the company's valuation.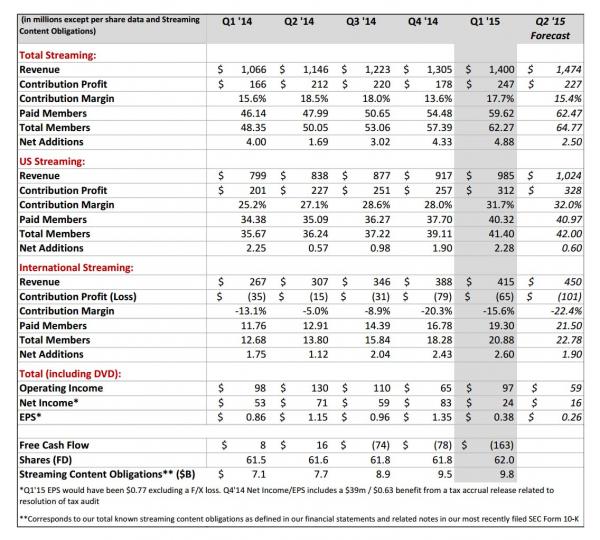 As for the here and now, and the one metric that use to matter once upon a time but no longer matters, cash flow, NetFlix just reported its worst cash burning quarter in history, blowing through $126 million in the quarter.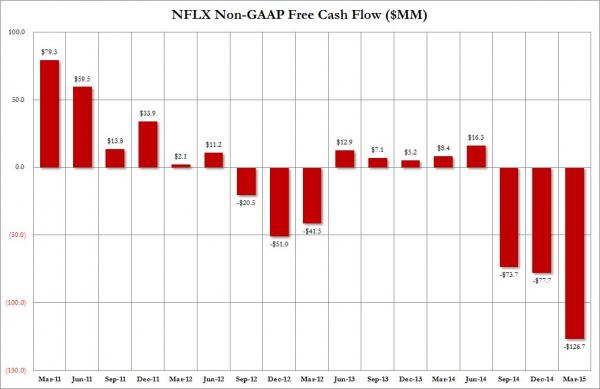 In other words, more dilutive convertible and/or stock issues are imminent which will promptly be taken by the euphoric shareholder base as bullish catalyst and send the stock to even more stratospheric valuations.
And the reaction in the stock...