Campbell Soup Company CPB hit a 52-week low of $51.55 on Jul 7, closing at $51.58. Although the company has been undertaking several strategic steps to expand its portfolio, its performance remains challenged due to the tough macroeconomic scenario prevailing in the food industry with soft consumption patterns.
The company's shares are seen to be loosing investor's confidence which is evident from its 14.2% decline over the last six months, underperforming the Zacks categorized Food – Miscellaneous/Diversified industry that fell 5.2%.
Let's now look deeper into some of the aspects that have been pulling down Campbell Soup in the recent times.
Lower Sales at Campbell Fresh
Sales at Campbell Fresh (C-Fresh) division dropped 6% year over year in the third quarter of fiscal 2017. The lingering constraints related to the Bolthouse Farms Protein PLUS drinks recall, in Jun 2016, were largely accountable for the disappointing performance of the C-Fresh division. Moreover, the management of Campbell Soup expects capacity constrains to continue through the final quarter, which we believe is likely to hurt the overall top line.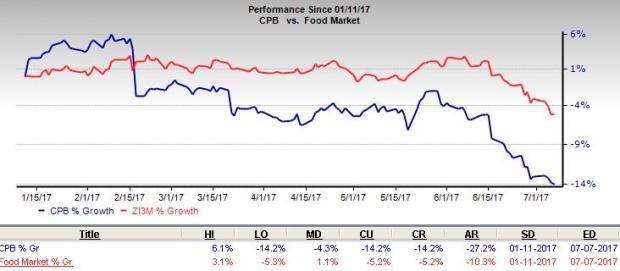 Consumer Shifts Impact Revenue
The food and beverage industry, being one of the most attractive is extremely prone to changing consumers' tastes and preferences owing to seismic and other shifts. Unfortunately, Campbell Soup succumbed to such industry headwinds in the third quarter of fiscal 2017. Consumer spending grew at its lowest rate, in about eight years, which considerably hampered the company's top line. Moreover, results were marred by rigorous competition from rising e-Commerce trends, which is a major retail hurdle, is expected to linger and pressurize grocery and mass networks.
Outlook & Estimates Moving South
Given a soft third quarter and the tough operating environment, management lowered its fiscal 2017 sales outlook, anticipating sales growth to range between negative 1% to flat, compared with the old forecast of flat to a 1% increase. Consequently, the Zacks Consensus Estimate for the fiscal has trended downwards.
Strategic Initiatives to Revive Performance
Nevertheless, Campbell Soup is progressing with its cost savings plan, which generated better-than-expected results in the third quarter. This also caused management to raise the lower end of its EPS and EBIT views for fiscal 2017. Also, the company is on track with its strategic growth initiatives, as is evident from its focus on acquisitions aimed at strengthening its brand portfolio. The recent acquisition of Pacific Foods is one such strategic endeavor.
With strong initiatives in place, all we can do is hope that Campbell Soup would soon revive its performance. Moreover, the company carries a VGM Score of "B."
Given the pros and cons embedded in the stock, Campbell Soup currently carries a Zacks Rank #3 (hold).
Still Interested in this Space? Check these Stocks
Some better-ranked stocks in the Consumer Staples sector include Constellation Brands, Inc. STZ, B&G Foods, Inc. BGS and Aramark ARMK, all carrying a Zacks Rank #2 (Buy). You can see the complete list of today's Zacks #1 (Strong Buy) Rank stocks here.
Constellation Brands has an average positive earnings surprise of 11.7% for the past four quarters, with a long-term earnings growth rate of 18.2%.
B&G Foods generated an average positive earnings surprise of 2.1% over the trailing four quarters and has a long-term earnings growth rate of 10%.
Aramark has an average positive earnings surprise of 4.5% for the last four quarters and has a long-term earnings growth rate of 12%.
Will You Make a Fortune on the Shift to Electric Cars?
Here's another stock idea to consider. Much like petroleum 150 years ago, lithium power may soon shake the world, creating millionaires and reshaping geo-politics. Soon electric vehicles (EVs) may be cheaper than gas guzzlers. Some are already reaching 265 miles on a single charge.
With battery prices plummeting and charging stations set to multiply, one company stands out as the #1 stock to buy according to Zacks research.
It's not the one you think.
Want the latest recommendations from Zacks Investment Research? Today, you can download 7 Best Stocks for the Next 30 Days.
Click to get this free report
Constellation Brands Inc (STZ): Free Stock Analysis Report
Campbell Soup Company (CPB): Free Stock Analysis Report
B&G Foods, Inc. (BGS): Free Stock Analysis Report
Aramark (ARMK): Free Stock Analysis Report
To read this article on Zacks.com click here.
Zacks Investment Research