Fitbit, Inc. FIT just released its second quarter fiscal 2017 earnings results, posting earnings of a loss of $0.18 per share and revenue of $353.3 million. Currently, Fitbit has a Zacks Rank #3 (Hold), and it is up 4.54% to $5.30 in after-hours trading shortly after its earnings report was released.
Fitbit:
Beat earnings estimates.The company posted adjusted earnings of -$0.18 cents per share, after excluding $0.07 for non-recurring items, beating our Zacks Consensus Estimate of -$0.22.
Beat revenue estimates.The company saw revenue figures of $353.3 million, beating our estimate of $339.17 million. Revenue decreased year-over-year by about 40%. New products introduced in the last twelve months represented 81% of revenue.
Fitbit sold 3.4 million devices, up 14% sequentially from the first quarter of 2017, but down 40% year-over-year.
38% of product activations came from customers who made repeat purchases. Of the repeat purchases, 39% came from customers who were inactive for 90 days or greater.
The Fitbit app was the number one downloaded health and fitness applications on the iOS and Android platforms, based on U.S. downloads.
Looking ahead, Fitbit expects revenue in the range of $380 to $400 million for the third quarter. It also expects earnings in the range of -$0.05 to -$0.02.
"Consumer demand in the second quarter was better than anticipated, enabling Fitbit to reduce channel inventory and generate better sales," said co-founder and CEO James Park. "Our smartwatch, which we believe will deliver the best health and fitness experience in the category, is on track for delivery ahead of the holiday season and will drive a strong second half of the year."
"In the long term, we are confident in our vision for the future and are uniquely positioned to succeed by leveraging our brand, community, and data to drive positive health outcomes."
Here's a graph that looks at Fitbit's price, consensus, and EPS surprise:
Fitbit, Inc. Price, Consensus and EPS Surprise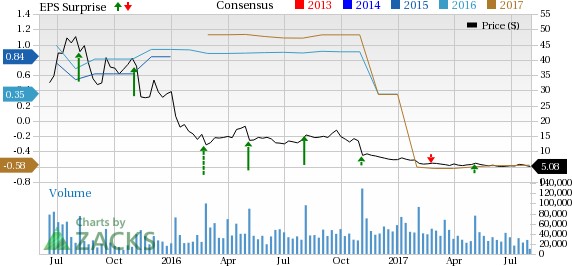 Fitbit, Inc. Price, Consensus and EPS Surprise | Fitbit, Inc. Quote
Fitbit Inc. manufactures and markets wearable fitness-tracking devices. The Company's product consists of Fitbit Zip, Fitbit One, Fitbit Flex, Fitbit Charge, Fitbit Charge HR, Fitbit Surge and Aria. It also offers accessories which include bands and clips, charging cables and Fitbit apparel. Fitbit Inc. is headquartered in San Francisco, California.
More Stock News: Tech Opportunity Worth $386 Billion in 2017
From driverless cars to artificial intelligence, we've seen an unsurpassed growth of high-tech products in recent months. Yesterday's science-fiction is becoming today's reality. Despite all the innovation, there is a single component no tech company can survive without. Demand for this critical device will reach $387 billion this year alone, and it's likely to grow even faster in the future.
Zacks has released a brand-new Special Report to help you take advantage of this exciting investment opportunity. Most importantly, it reveals 4 stocks with massive profit potential. See these stocks now>>
Want the latest recommendations from Zacks Investment Research? Today, you can download 7 Best Stocks for the Next 30 Days.
Click to get this free report
Fitbit, Inc. (FIT): Free Stock Analysis Report
To read this article on Zacks.com click here.
Zacks Investment Research