On Friday, May 13, Indian benchmarks closed in negative territory.
In April, Indian inflation picked up to 5.39% y-o-y compared to 4.83% y-o-y in March, and this made investors more concerned about a potential reduction in interest rates. Notably, the median consensus had called for 5% y-o-y.
Last year the Reserve Bank of India (RBI) cut interest rates several times. The regulator aims to keep consumer price growth below 5% until March 2017.
In addition, industrial output ticked up 0.1% y-o-y in March against the projection of a +2.5% y-o-y rise.
The Nifty 50 retreated 1.08% to 7,814.90, while the BSE Sensex 30 slid 1.17% to 25,489.57.
On the Nifty 50, Asian Paints and Idea Cellular outperformed the broader market, adding 1.60% and 1.43%, respectively. Vedanta and Eicher Motors were out of luck, dipping 4.76% and 3.85%, respectively.
On the BSE Sensex 30, Tata Motors paced the gains, picking up 0.72%. Vedanta stood out amongthedecliners, sinking 4.62%.
Consumer goods producer Hindustan Unilever set a two-month low.
In addition, India's largest mobile carrier by subscriber base Bharti Airtel touched a one-week low.
Drugmaker Dr. Reddy's Laboratories was off 1.8%, while ICICI Bank and Tata Steel each contracted at least 2%.
On the other side of the spectrum, Asian Paints set an all-time high.
On the currency market, USD/INR edged up 0.20% to 66.776, while EUR/INR fell 0.24% to 75.7670.
The India VIX, a volatility index based on Nifty 50 index option prices, spiked 4.10% to 16.9975.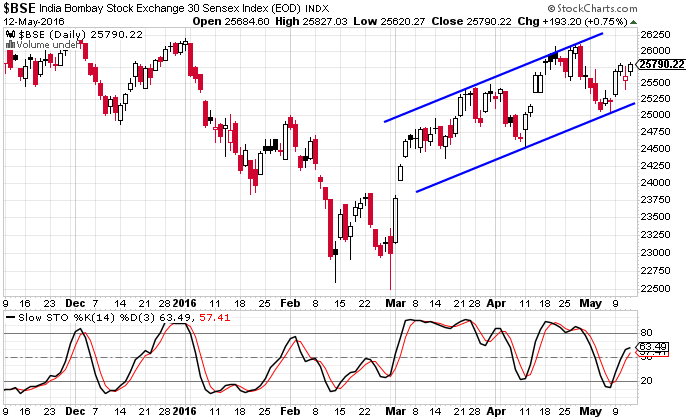 From a technical standpoint, the BSE Sensex 30 is trading within a rising trend, and given absence of overbought conditions, more upside can be expected.