1) Indicators
Operating margin (%) 11,87. It is more than 78% of companies in industry. From 2011 EPS is increasing every year. Debt to Equity (%) is 30% which is acceptable. Dividend Yield - 5 Year Avg is 3.33%. P/E (ttm) ratio is 16,77. But average in industry is 32. 52. This share trades in a narrow rage, but in long term they are in a strong growing trand.
According to these indicators we can suggest Nestle as a low risk stock for long term investments.
2) News backgroung.

Nestle has been grappling with a public relations crisis in India, a fast-growing consumer goods market, following a nationwide ban on its Maggi instant noodles in May.
The ban was imposed after local regulators reported in May that some packets of the noodles contained unsafe levels of lead. Nestle, which has said the noodles are safe, had to order a recall of the product a month later, which cost it about 66 million Swiss francs.
The company has restarted manufacturing Maggi noodles. "November is envisaged as the date," a spokesman said of a sales resumption.
Nestle India Ltd said its quarterly profit dropped 60 percent, as the company reels from the impact of a ban on its Maggi instant noodles in the country.
This saved reputation, money and market share.
U.S. business, especially frozen food, is stalled. In USA they relaunched frozen meals brand with lean market cousin place and Stouffers Fit Kitchen.
The makeover is part of management's plan to transform Nestlé into a nutrition and wellness company, spurred by investments in skincare and health products. Profits got a big boost from the sale of a portion of its stake in L'Oréal. In 2015 Half-Year report Nestle Nutrition unit shows 23% trading operation profit margin. They have 3.9% organic growth despite difficult comparisons especially in Asia. They faced with weakened European consumer market, changing customer tastes, and a slowdown in emerging markets. But still analysts say the company is doing a better job innovating than its peer group. Its new skin health division based on Galdarma company. Also they will merge Bübchen. In 2014 Nestlé Skin Health announced its plan to open a global network SHIELD centers around the world to meet skin health challenges that result from our 21stcentury longevity. The first SHIELD center will open in New York City in the fourth quarter of 2015 followed by the Shanghai center in the first quarter of 2016 with other location planned in the future.
China's ageing challenges are looming and the needs for maintaining and resoring skin health as well as treating skin conditions and diseases are a more essential part of wellness, active ageing and good healthcare than ever before. According to official statistics, the elderly population in China will reach 248,000,000 by 2020, which accounts for 17% of the country's total population. Each year, there are more and more cases of skin cancer, pruritus and other skin diseases in the elderly population, and they are often associated with a considerable amount of physical and emotional burden. So market for skin health products will only increase. Nestle expand and develop their business.They go into more marginal spheres, such as child nutrition and health. Right now it does not affect the financial performance and therefore it does not affect the price of the shares at the moment. If you buy this stock now you won't lose money but If they bring to the market successful products, profit could be great.
3) Technical analysis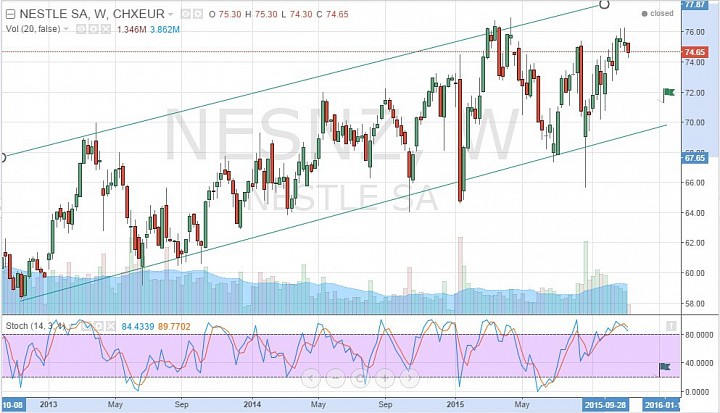 As it has been said, stocks are traded in the corridor, so it is recommended to wait and enter from lower limit of the corridor, thereby reducing the risks. Stochastic also speaks about little overbought, which confirms the idea through the entrance after a while. Judging from the graph, at the best point of purchase price will be approximately 71-72, provided that stohotistika will be about 40 or lower.
Dividend yield 3,3% + average year growth 8%=good profit with low risk