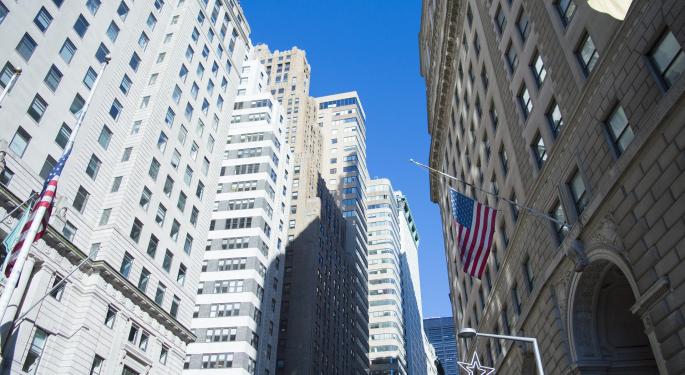 Below is a tool used by the Benzinga News Desk each trading day -- it's a look at everything happening in the market, in five minutes. Apply for daily AM access by clicking here or email minutes@benzinga.com.
Macro Focus
Australia's ASX index gained 0.57 percent as the commodity-heavy index gained on the heals of gold, metals & mining and materials sectors. In fact, the index hit a new six-month high but is still lower by nearly 5 percent over the past year.
Oil prices fluctuated between gains and losses ahead of Wednesday's U.S. supply data. The Wall Street Journal noted that experts it surveyed are expecting the U.S. Energy Information Administration to report a 400,000 barrel increase in its oil inventories.
Brent crude reversed early morning losses and was higher by 0.7 percent at $45.85 a barrel. At the same time, the price of WTI crude was nearly unchanged at $44.65 a barrel.
BZ News Desk Focus
Some of last night's and this morning's most notable earnings:
Macy's M 7.73% Reports Q1 EPS $0.37 vs $0.36 Est., Sales $5.77B vs $5.93B Est.
Disney DIS 4.83% Reports Q2 EPS $1.36 vs $1.40 Est. Q2 Sales $12.969B vs $13.2B Est.
Fossil FOSL 31.07% Reports Q1 EPS $0.12 vs $0.15 Est., Sales $660M vs $666M Est.
Electronic Arts EA 12.53% Reports Q4 Adj. EPS $0.50 vs $0.42 Est., Sales $924M vs $888.9M Est.
It's back! This week is the 2016 Skybridge Alternatives Investment Conference, better known to many as SALT. It's an event unlike any other where the brightest and most influential minds in finance, business and politics come to one place to talk about the future. Benzinga will be on hand to bring you up-to-minute news.
Sell-Side Themes
Goldman Sachs dove deep into gold. The firm raised FY 2016 Gold Spot price target From $1,097 to $1,202 and FY 2017 Gold Spot From $1,000 to $1,150.
Sell-Side's Most Noteworthy Calls
UBS was negative on Apple AAPL 0.6% and sees a declining new customer base.
Deal Talk
Shares of Staples SPLS 15.25% were trading lower by more than 16 percent, while shares of Office Depot ODP 35.3% plunged more than 35 percent after the companies called off their proposed merger. As part of the merger agreements, Staples will pay Office Depot a one-time break-up fee of $250 million. In addition, Staples will no longer proceed with its planned divestment of large corporate contract businesses and related assets to Essendant.
More companies are deciding to do without bankers when they make acquisitions. In 2015, the buyers in public-company deals valued at more than $1 billion didn't use financial advisers in 70 instances, or 26 percent of the time, according to Dealogic. That is the second-highest total on record.
In The News
At least 64 people were killed when a bomb went off at a market in Baghdad, according to Iraqi police. An additional 87 people were injured in the attack in the largely Shiite neighborhood of Sadr City. ISIS has claimed responsibility for the attack in a statement on social media, saying it was targeting Shiite militias. Police said the bomb was placed in a parked car.
Bernie Sanders defeated Hillary Clinton in West Virginia Tuesday night, keeping his long-shot bid to win the Democratic presidential nomination alive.
Wall Street Journal reports on the nation's busiest ports emerging as a key battleground in the legal fight over whether truck drivers should be counted as employees or independent contractors.
Blogosphere
"Uber is getting off cheaply in its deal with disgruntled U.S. drivers," Reynolds Holding writes. "Treated as employees rather than independent contractors, the ride-hailing service might have had to pay them as much as $730 million more, according to court papers. That makes a $100 million settlement of two class-action lawsuits look like peanuts."
The Reformed Broker: Nick Murray was very early to the insight that guarding clients from their own emotions and protecting them from six-figure mistakes was the true calling of an advisor – and why, as he puts it, "god sent financial advisors into this world."
Trending
CSQI DIS M ODP SPLS FOSL NUGT LABU SN BRZU FSLR CDE GLD FDX GG TM [StockTwits]
#BigGuyTwitter spurred a huge movement from larger men proud of their physiques. As a response, #TallGirlTwitter emerged and women are reveling in their natural size.
Date
Firm
Action
From
To
May 2016
UBS
Maintains
Buy
Apr 2016
Brean Capital
Maintains
Buy
Apr 2016
Barclays
Maintains
Overweight
© 2016 Benzinga.com. Benzinga does not provide investment advice. All rights reserved.