The USD/JPY has been bullish in the last week of October. The market supported the pair at 100 and brought it to 105.50 before retreating at the close on Friday (10/28).

USD/JPY 4H hart 10/31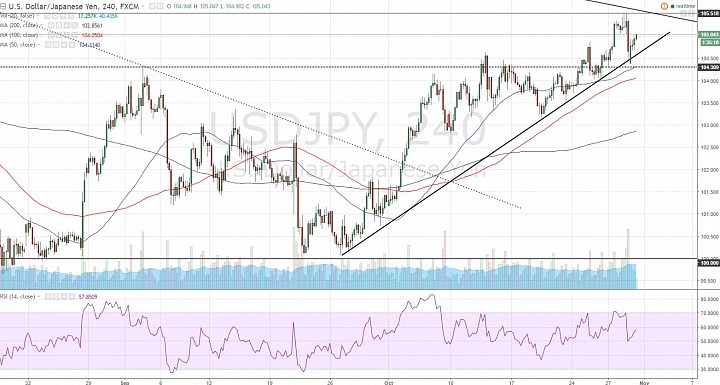 (click to enlarge)

Bullish signs:
- Price is above the 200-, 100-, and 50-period SMAs, which are all sloping up and in bullish alignment.
- The RSI has pushed above  70, and has held above 40 for the most part. This reflects maintenance of the bullish momentum. 
- Price continues to make higher higher and higher lows. 
- We can also visualize a rising trendline.

Critical resistance:
- The technical picture in the 4H chart showed that the market has been bullish in the short-term.
- However, if you look at price action in the past year and a half, USD/JPY has turned bearish.
- This week, the short-term bullish mode will be challenged by the medium to long-term bearish mode by a falling resistance that originates in March this year.
- The market already started to sell around 105.50, but the bulls held the pair above a pivot at 104.30. 
- There is still pressure on this key resistance.

Scenarios:
- Now, price fails to climb 105.50, and falls below 104.30, the market might be walking back USD-strength ahead of Friday's non-farm payroll report.
- In this scenario, I would look for the area around 103 to provide support. After all, the market is likely just being tentative before the key event risk, so I would limit the bearish outlook.
- A break above 105.50 on the other hand means the market is positioning for a strong NFP. This breakout would open up the next pivot around the 107.50-107.70 area. But, it might slow down before getting there especially ahead of Friday's NFP.