ExxonMobil is extremely well managed and is the most cost-effective among large oil producers.
I anticipate that oil prices will recover due to an OPEC agreement, improvement to demand and seasonality by 2H'16.
Exxon 2H'16 estimates are beatable at $45/barrel, and a large earnings/revenue beat will be at $60/barrel over the current fiscal year.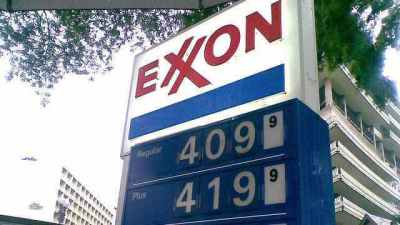 Given the recent recovery in oil prices, strong execution by Exxon Mobil (NYSE:XOM) management and improving production of oil well sites, the Exxon stock seems better positioned as a value recovery play going into the second half of 2016. Furthermore, ExxonMobil returned to free cash flow positive by the second half of 2015 through $6.5 billion in CapEx reductions. The management team anticipated that CapEx will be $23.2 billion in FY'16, which compares to CapEx of $26.49 billion in FY'15. So, further reductions are on the way, translating to a higher operating efficiency despite depressed oil prices/revenue.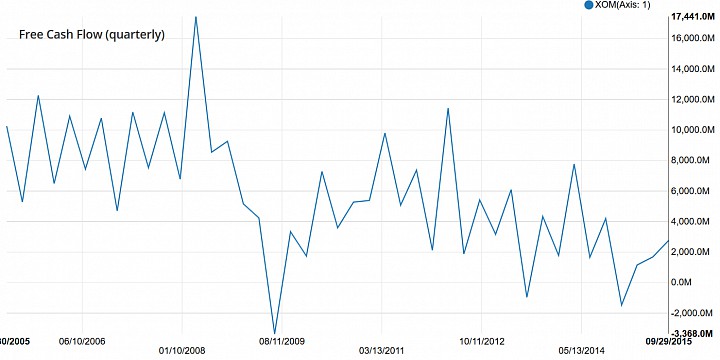 Source: Rawcharts
ExxonMobil will focus on improving pre-existing sites to maintain growth in oil production while also expanding exploration (near term) in the Permian Basin and Bakken Formation despite a weak market environment. These two on shore regions have low break-even points, which is why they're given higher priority. Furthermore, the company has reduced its operating expenditures in terms of SG&A/R&D by $6.264 between FY'15 and FY'14, which translates to higher operating margins as oil prices recover.
Some of the cost improvements are due to lower procurement costs, recapturing of marketing costs in the downstream and higher oil production in pre-existing oil fields. As such, there's a lot of potential for value recovery assuming oil prices recover, as revenue is highly sensitive to oil pricing. Furthermore, I don't believe Exxon engages very heavily in energy hedging as the company reported that the net value of derivatives was $21 million, which implies a very low notional value of derivative hedges given the company's annual revenue/daily oil production volume.
Currently, the analyst consensus anticipates ExxonMobil to report revenue of $45.31 billion (33% below prior fiscal year) and EPS of $0.31. These expectations seem somewhat reasonable given the guidance on expenses and recovering oil prices.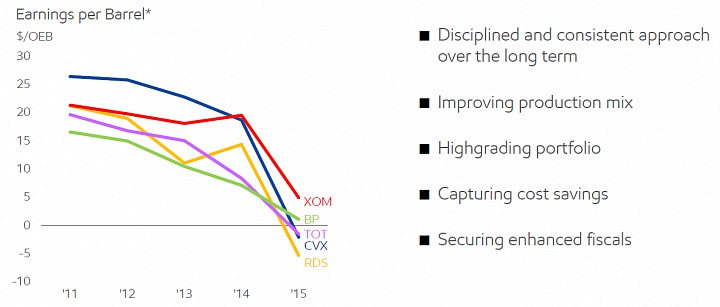 Source: ExxonMobil
The company maintains a high...
More