Submitted by Lance Roberts via STA Wealth Management,
Earlier this week, I posted a fairly in-depth look at the recent correction to try and determine whether this is simply just a correction in a bull market, or potentially something worse. To wit:
"But the underlying fundamental and economic data have been weak for some time, yet the market continued its unabated rise. The Bulls have remained firmly in charge of the markets as the reach for returns exceeded the grasp of the underlying risk. It now seems that has changed. For the first time since 2007, as we see initial markings of a potential bear market cycle.

 

The first chart below shows the long-term trend of the market."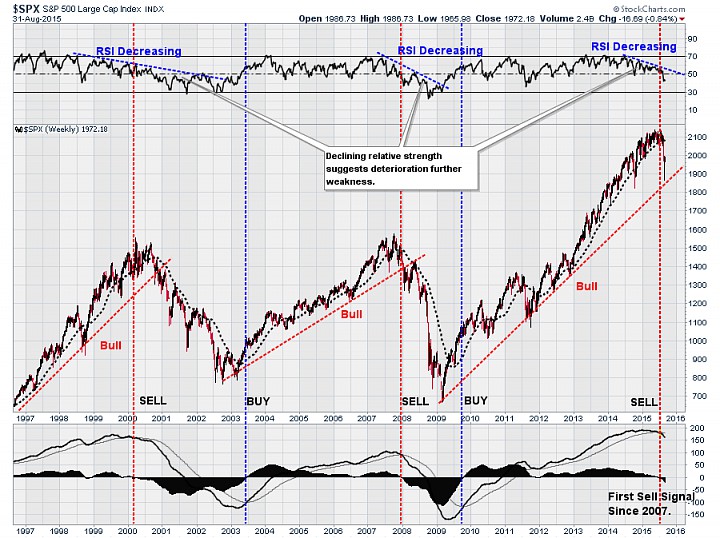 "The bottom part of the chart is the most important. For the first time since 2000 or 2007, the market has now registered a momentum based "sell" signal. Importantly, this is a very different reading that what was seen during the 2010 and 2011 "corrections" and suggests the current correction may be more significant."
I continue to suspect that the weak market internals, deterioration in earnings and a generally weak economic backdrop that odds reside with the "bears" for now. However, we have all been surprised by what happens "next" particularly when the Federal Reserve stands at the helm. 
With that in mind, and a dismal August month now behind us, our weekend reading list once again takes a look at the markets from the seemingly "edge of the cliff."
---
THE LIST
1) Don't Blame China For Market Woes by Ben Stein via CBS News
"August is the cruelest month.

 

A good chunk of my savings disappeared as the stock market convulsed, and we're down at some points by well over 10 percent. Why did it happen?

 

The pundits and analysts appeared and said it was because of the Chinese devaluation and possible serious weakness in China. This, in turn, would devastate U.S. exports, supposedly, to China and sink the ship of our prosperity."
Read Also: Jim Chanos - 5 Things About China by Linette Lopez via Business Insider
2) Bad August Months Lead To Worst Septembers by Anora Mahmudova
""In the 11 instances since 1945 when the S&P 500 fell more than 5% in August, September returns were negative 80% of the time, averaging a decline of 4%, said Sam Stovall, U.S. equity strategist at S&P Capital IQ.

 

History is a good guide, but not necessarily a gospel,"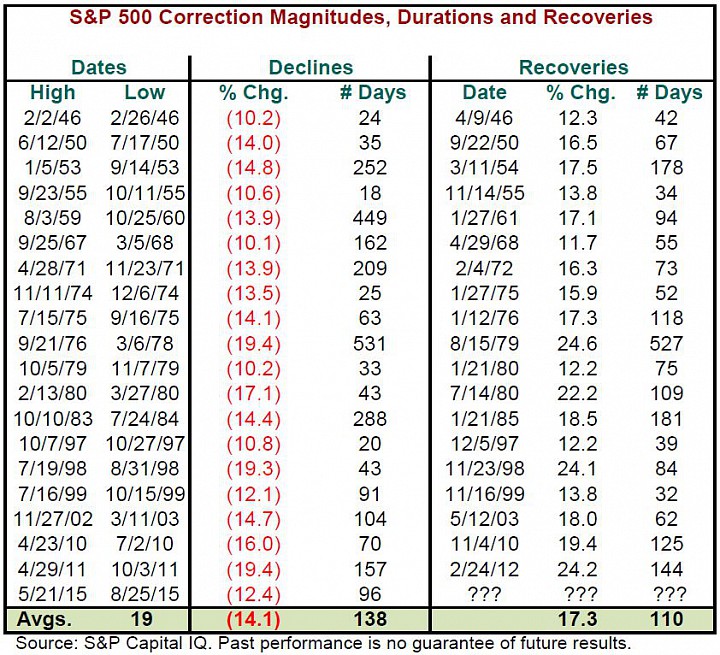 Read Also: Why This Market Sell-Off Could Keep Going by Paul Lim via Time
3) Nobody Panic - This Is Just A Retest by Ron Insana via CNBC
"Of course, if the market's internal strength deteriorates further on the second wave down, it could be indicative of something more serious.

 

But right now, we haven't seen any sign of that, so panic would be premature.

 

It has long been my view that U.S. stocks are in the midst of a secular, or long-term, bull market that is likely in its 5th or 6th inning.

 

Prior to this correction, it had been 46 months since U.S. markets had suffered a pullback of more than 10 percent. Corrections occur, on average, every 18 months, so this was long overdue."
Read Also: This Is The Start Of The Sell Off by Bill Bonner via ContraCorner
4) If The Market Hits This Level, Then Get Nervous by Heather Long via CNN Money
"Time will tell who is right. But remember that we live in an era where computer trading dominates the American stock market. The "robots" that are making a lot of trading calls aren't sitting around pondering China's economy. They are paying attention to whether stocks fall below key levels.

 

What are those levels? No one knows exactly. But these two metrics are worth watching. If these thresholds are crossed, both computer and human traders will consider it a game-changer point."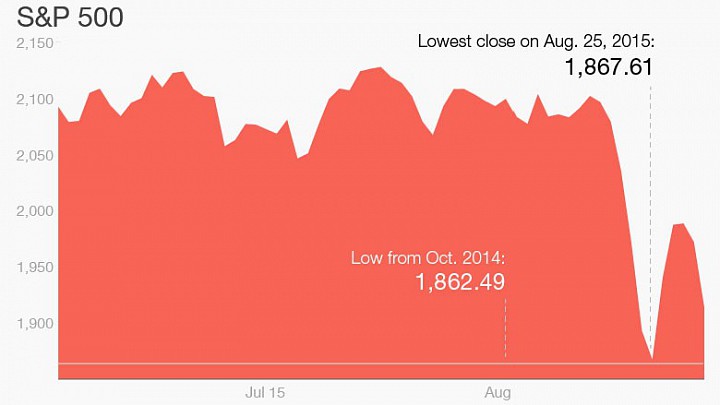 Also Read: How To Survive A Market Crash by Brett Arends via MarketWatch
5) Why Fear Dominates Investors Sentiment by John Shmuel via Financial Post
"One difference is that corporate balance sheets and the U.S. economy remain strong. Another is that China, which has been a large source of fear recently, still has significant policy tools available to help it spur growth and calm markets there and, by extension, around the world.

 

'This episode does not match equity declines in the major sustained financial crises of the last 20 years,' Oxford Economics said.

 

That does not mean that markets can't go lower. Canaccord notes that the current correction has two analogs in the 1998 and 2011 corrections, with the former preceding a rise in U.S. interest rates and the latter being driven by worries over China and emerging markets."
Read Also: Don't Buy The Stock Market Dip This Time by Jeff Erber via Real Clear Markets
---
Other Reading
Market Still Isn't Where Its Going by Joe Calhoun via Alhambra Partners

If You Need To Reduce Risk, Do It Now by John Hussman via Hussman Funds

Best Tweets In August by Meb Faber via Meb Faber Research

Recession Odds Surge To Highest Since 2011 via ZeroHedge

This Is The Worst Environment For Investors By Jesse Felder via The Felder Report
---
"Bull markets are born on pessimism, grown on skepticism, mature on optimism and die on euphoria. The time of maximum pessimism is the best time to buy, and the time of maximum optimism is the time to sell." - John Templeton
Have a great weekend.