The stock market and Caterpillar Inc. (NYSE:CAT) management appear to be taking a different tone with regard to the construction machinery giant's outlook for 2017. The stock is up nearly 60% since the start of 2016 and now trades at a forward P/E ratio of 30. Clearly, the market is expecting a strong recovery in the coming years, but management's recent commentary has been somewhat more cautionary. What's going on, and who is right?
Expecting a trough
Essentially, the market is hoping for a trough in revenue and income margin in 2017. When Caterpillar's trailing-12-month revenue (TTM) previously troughed, the pickup in the EBITDA margin was substantial: Earnings before interest, taxes, depreciation, and amortization recovered in the typical "V"-shape fashion found in cyclical upswings.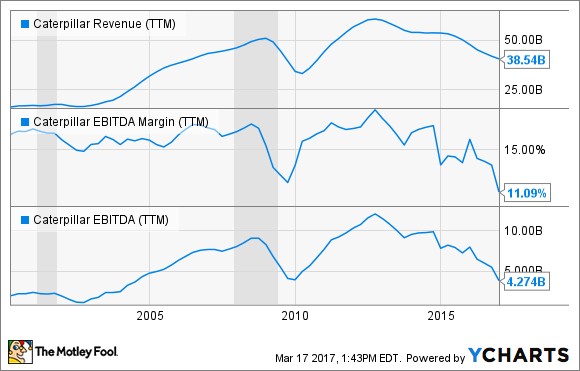 Given the company's exposure to infrastructure spending -- due for a boost thanks to President Trump -- and a bottoming out in energy and mining commodities, Caterpillar looks well placed to bounce back. Indeed, the bullish case takes heart from the outlooks of competitors such as Deere & Company (NYSE:DE) in construction. Deere recently raised its forecast for 2017 growth in construction and forestry equipment sales, from 1% up to 7%.
Caterpillar's management downplays expectations
But here's the thing: Caterpillar's management hasn't been cheerleading the stock higher, because at three separate events it appears to have taken a cautionary position.
First, at a Credit Suisse conference on Dec. 1, management argued that the analyst consensus for sales of $38 billion in 2017 was reasonable but described the consensus for profit per share of $3.25 as being "too optimistic considering expected headwinds."
Second, on the...
More