Diversified industrial goods manufacturer 3M Company's MMM announced that it completed the divestiture of its tolling and automated license/number plate recognition business to Neology, Inc.
Headquartered in San Diego, CA, Neology is a leading provider of integrated solutions for tolling, electronic vehicle registration and public safety applications. The company is a subsidiary of SMARTRAC, a portfolio company managed by One Equity Partners, a middle-market private equity firm.
The company had inked the agreement on May 10, 2017. Per the deal, 75 employees of the divested business are expected to join Neology. The divested business has annual global sales of approximately $40 million. The transaction will not have any impact on both second quarter and full-year 2017 GAAP earnings per share.
3M has outperformed the Zacks categorized Diversified Operations industry driven by such focused growth initiatives, with an average return of 9.1% compared with 0.1% for the latter, over the last 90 days. The company is continuing with its portfolio restructuring efforts by divesting assets that no longer fit its strategy and continues to make investments in other lucrative markets. It divested its prescription eyewear business, part of the Personal Safety Division to HOYA Vision Care, a premier eyeglass lens provider across the globe, for an undisclosed amount. 3M decided to sell the business to focus on its core personal safety businesses. The company, however, retained its non-prescription eyewear business that is widely known as the plano eyewear.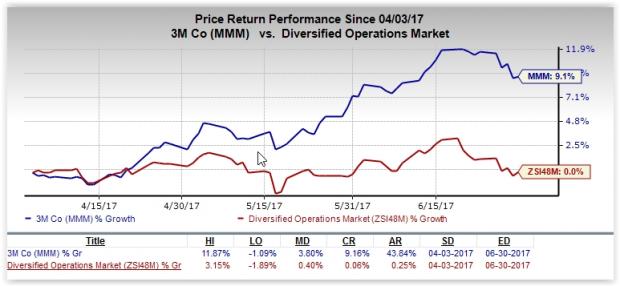 In addition, to focus on its core business, the company divested its identity management business to Gemalto, an international digital security company. The business provides biometric hardware and software solutions that provide better security to its customers. It was part of 3M's Traffic Safety and Security Division, which is an integral component of its Safety & Graphics segment. The business has annual global sales of around $215 million. It employs approximately 450 employees who were absorbed by Gemalto.
3M Company currently carries a Zacks Rank #2 (Buy). Some other stocks in the industry worth a glance include Barloworld Limited BRRAY, Hitachi, Ltd. HTHIY and Bunzl plc BZLFY. All three stocks carry a Zacks Rank #2. You can see the complete list of today's Zacks #1 Rank (Strong Buy) stocks here.

Barloworld has a long-term earnings growth expectation of 17.2%.
Hitachi has a long-term earnings growth expectation of 13%.
Bunzl Signal has a long-term earnings growth expectation of 3.2%.
5 Trades Could Profit "Big-League" from Trump Policies

If the stocks above spark your interest, wait until you look into companies primed to make substantial gains from Washington's changing course.

Today Zacks reveals 5 tickers that could benefit from new trends like streamlined drug approvals, tariffs, lower taxes, higher interest rates, and spending surges in defense and infrastructure. See these buy recommendations now >>
Want the latest recommendations from Zacks Investment Research? Today, you can download 7 Best Stocks for the Next 30 Days.
Click to get this free report
3M Company (MMM): Free Stock Analysis Report
Bunzl PLC (BZLFY): Free Stock Analysis Report
Barloworld Ltd. (BRRAY): Free Stock Analysis Report
Hitachi Ltd. (HTHIY): Free Stock Analysis Report
To read this article on Zacks.com click here.