J.P. Morgan Chase & Co. said its first-quarter profit fell 6.7% due in part to a weak performance within its investment banking and trading divisions.
But shares rose 3% in premarket trading as the results weren't as weak as feared.
The largest U.S. bank by assets reported a profit of $5.52 billion, or $1.35 a share. That compares with a profit of $5.91 billion, or $1.45 a share, in the same period of 2015. Analysts polled by Thomson Reuters had expected earnings of $1.26 a share.
Revenue fell 3% to $24.08 billion. Analysts had expected $23.4 billion.
J.P. Morgan's trading revenue decreased 11% to $5.17 billion from $5.81 billion in the first quarter of 2015. Corporate and investment bank head Daniel Pinto said in mid-February that trading was already down 20% in the quarter because of debt and equity capital markets activity.
Costs decreased 7% to $13.84 billion from $14.88 billion a year earlier, an effort the bank continues to drill down on.
The bank recorded no material legal costs for the first quarter, compared with $687 million in the same period a year ago and $644 million in the fourth quarter.
The bank's provision for credit losses increased to $1.8 billion from $959 million a year earlier, hurt partly by reserve increases tied to the energy and metals and mining sectors.
<!== INSTRUMENT %% %60% ==!>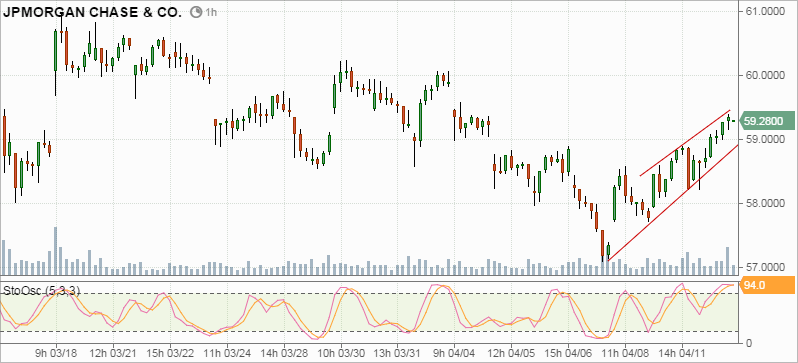 Looks overbought, today we can see a downside move to $58 per share