Back in December, Rexnord became one of the unfortunate companies put on Twitter blast by then President-elect Trump for moving jobs to Mexico.  In a December 3rd tweet, Trump called out Rexnord for plans to "viciously fire all of its 300 workers" in Indiana vowing that the outsourcing trend would happen "No more!" under his reign.
Rexnord of Indiana is moving to Mexico and rather viciously firing all of its 300 workers. This is happening all over our country. No more!

— Donald J. Trump (@realDonaldTrump)

https://twitter.com/realDonaldTrump/status/804884532671430658
But despite the warnings, fast forward two months and Rexnord is still planning to close its industrial-bearings factory in Indiana, which employs about 350 people, despite the President's Twitter shaming.  While Trump/Pence tax concessions helped to save roughly 1,000 U.S. jobs at a Carrier plant in Indiana, apparently Rexnord couldn't be lured away from the $30mm in annual cost savings they say they'll get from moving to Mexico.  Per the Wall Street Journal:
Rexnord says moving the plant to Mexico is part of a plan to save $30 million annually. Workers say they have been packing up machines while their replacements, visiting from Mexico, learn how to do their jobs.

 

"That's a real kick in the ass to be asked to train your replacement," said machinist Tim Mathis, who has worked at Rexnord for 12 years. "To train the man that's going to eat your bread."

 

Rexnord Chief Executive Todd Adams said in a December letter to employees that U.S. workers still accounted for more than half of its approximately 8,000-employee workforce. The company has operations across the globe, including Europe, Asia and Africa.

 

While Rexnord hasn't specified how many of the Indianapolis jobs would move to Mexico, it is expected to keep about 25 office jobs there and in Milwaukee, and add 50 jobs in Texas.
Meanwhile, hoping for a last-minute Carrier-style bailout from the Trump administration, Rexnord workers held a rally last week to criticize "corporate greed" while pleading with mangement to "Keep It Made In America."
At a rally last week attended by workers hoping for a last-minute reprieve, speakers criticized "corporate greed" and trade deals such as the North American Free Trade Agreement with Canada and Mexico. Former Democratic presidential candidate Bernie Sanders addressed the crowd via a prerecorded video message.

 

"It just puzzles me to think that they have to [reduce costs] by dumping us out," said Gary Canter, a machinist who has worked at the Rexnord factory for eight years. "It's very un-American."

 

Mr. Canter said he voted for Mr. Trump. He remained hopeful the president would ultimately boost manufacturing, creating new jobs for his colleagues elsewhere even if the Rexnord plant isn't spared.

 

"We gave this man a chance because it wasn't a typical politician that's done nothing for us," Mr. Canter said.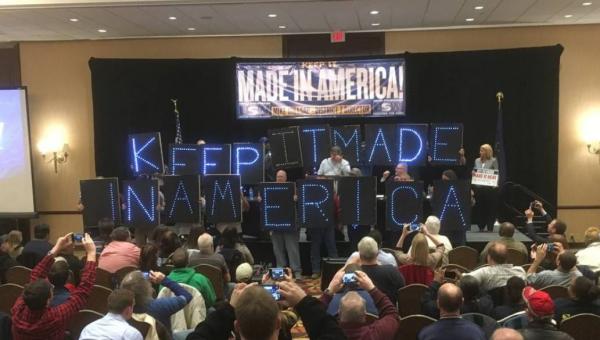 Of course, Rexnord isn't the only Indiana company moving forward with plans to outsource jobs to Mexico.  Manitowoc Foodservice recently went ahead with plans to wind down its soft-drink dispenser factory near Sellersburg, Ind., and lay off about 80 employees.  And electronic component maker CTS Corp. still plans to phase out production at its Elkhart, Ind., plant by mid-2018 and shift production to China, Mexico and Taiwan.
Meanwhile, in what will undoubtedly be a topic of conversation when Trump hosts Japanese Prime Minister Shinzo Abe at Mar-A-Lago for a round of golf tomorrow, Nissan Motors, despite 'tremendous' pressure from the White House, has said it plans to move forward with a joint venture with Daimler that would have the company manufacture Infiniti vehicles in Mexico.
Nissan Motor intends to go ahead with a new plant in Mexico, an executive said on Thursday, even as U.S. President Donald Trump seeks to renegotiate the North American Free Trade Agreement.

 

Nissan plans to make luxury Infiniti-brand cars at the plant, to be opened under a joint venture with Germany's Daimler. "There has been no change to the plan to start the Infiniti production at the end of fiscal 2017," which begins in April, Corporate Vice President Joji Tagawa told an earnings briefing. He did not say whether Daimler might rethink its plan to produce Mercedes-Benz vehicles there.
So much for the warning...
The U.S. is going to substantialy reduce taxes and regulations on businesses, but any business that leaves our country for another country,

— Donald J. Trump (@realDonaldTrump)

https://twitter.com/realDonaldTrump/status/805376548882776064
fires its employees, builds a new factory or plant in the other country, and then thinks it will sell its product back into the U.S. ......

— Donald J. Trump (@realDonaldTrump)

https://twitter.com/realDonaldTrump/status/805378393537658880
without retribution or consequence, is WRONG! There will be a tax on our soon to be strong border of 35% for these companies ......

— Donald J. Trump (@realDonaldTrump)

https://twitter.com/realDonaldTrump/status/805380553008680961
wanting to sell their product, cars, A.C. units etc., back across the border. This tax will make leaving financially difficult, but.....

— Donald J. Trump (@realDonaldTrump)

https://twitter.com/realDonaldTrump/status/805382541343653888
these companies are able to move between all 50 states, with no tax or tariff being charged. Please be forewarned prior to making a very ...

— Donald J. Trump (@realDonaldTrump)

https://twitter.com/realDonaldTrump/status/805386422807105536
expensive mistake! THE UNITED STATES IS OPEN FOR BUSINESS

— Donald J. Trump (@realDonaldTrump)

https://twitter.com/realDonaldTrump/status/805387038048612356