It has been an interesting earnings season thus far, and as is typically the case these days, some of the season's more compelling storylines have emerged from the latest results of the so-called "FANG" stocks—Facebook FB, Amazon AMZN, Netflix NFLX, and Alphabet GOOGL.
For Amazon, a massive earnings miss has pulled share prices down. Netflix also posted an earnings miss—for the first time in years—and yet the stock has moved higher thanks to solid subscriber growth figures.
But perhaps the most interesting FANG-related story to emerge from the latest batch of earnings reports is the contrasting reactions to the results of Alphabet and Facebook.
Indeed, these two companies, who are alike in that they both receive the vast majority of their revenue from advertising, have watched their share prices move in opposite directions since their respective report date, leaving investors to wonder exactly where the best value might be.
But does this price action tell the whole story? Which company really had the better earnings report? As we look ahead, does Facebook or Alphabet provide investors with the better opportunity for profits? Let's take a closer look.
Earnings Results
Facebook:
Facebook, Inc. Price, Consensus and EPS Surprise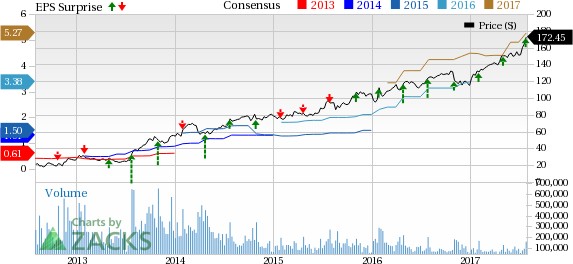 Facebook, Inc. Price, Consensus and EPS Surprise | Facebook, Inc. Quote
Facebook posted diluted earnings of $1.32 per share, surpassing the Zacks Consensus Estimate of $1.13 per share and increasing 69% year-over-year. The social media company notched revenues of $9.32 billion, topping our consensus estimate of $9.17 billion and growing 45% year-over-year.
Mobile ad revenue accounted for about 87% of total advertising revenue in Q2, up from about 84% in the prior-year quarter. Daily active users came in at 1.32 billion, a 17% gain, while monthly active users were about 2.01 billion, also a 17% year-over-year jump.
Notably, Facebook said on its investor conference call that full-year expenses will likely rise less than previously expected. Management now thinks expenses will rise about 40% to 45%, instead of the previously-announced 40% to 50%.
Heading into the year, Facebook—which has been building out data centers, hiring new engineers, and developing original content—told investors to expect higher spending this year. Now, it looks like we can expect expenses to come in on the low end of its original guidance, which is a great sign given the company's continued revenue growth.
Alphabet:
Alphabet Inc. Price, Consensus and EPS Surprise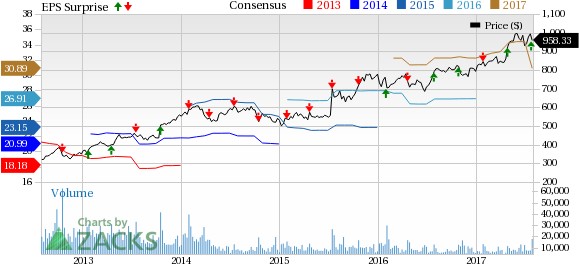 Alphabet Inc. Price, Consensus and EPS Surprise | Alphabet Inc. Quote
Alphabet posted earnings of $5.01 per share, beating Street estimates of $4.39. The company-formerly-known-as Google reported diluted, non-GAAP earnings of $8.90 per share, beating the Zacks Consensus Estimate of $8.17.
Taking out revenues paid to Google Network Members, the company saw revenue figures of $21.76 billion, beating our consensus estimate of $20.83 billion. Google ad revenue was up about 18.5% from the prior-year quarter, aggregate paid clicks were up 52%, and cost-per-click was down 23%.
Alphabet also revealed that, as a result of a recent EU regulatory ruling, the company was slapped with a $2.74 billion fine. GAAP profits, which were affected by the fine, slumped nearly 28% to $3.52 billion.
Interestingly, we're talking about expenses again here, albeit a considerably less productive type of spending. As Facebook spends more money on investing in its future, Alphabet had to pay a massive one-time bill to the EU.
That fine gets them nothing in return, while Facebook's spending may end up paying out later. Of course, Alphabet's fine was just a one-time issue, so future earnings should not be affected.
Latest Outlook
With updated results comes updated outlooks, and that's probably what investors are more interested in looking at right now. Check out the latest estimate activity for both companies: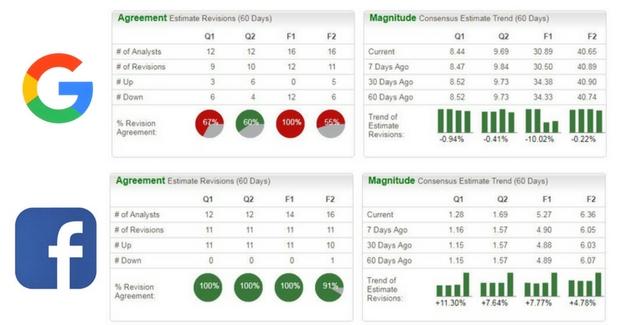 These snapshot paints a much clearer picture of the current sentiment surrounding these stocks. Over the past week, Alphabet's current-quarter, next-quarter, and next-year earnings estimates have slipped, while Facebook's have done just the opposite.
Alphabet's downward estimate movement has been relatively tame, but it's not headed in the right direction. On the other hand, analysts have been getting more bullish on Facebook, and the company's earnings estimates have soared recently.
Bottom Line
Given its impressive growth, as well as its lowered expense guidance, we can give Facebook the slight edge in a head-to-head comparison of earnings reports. On top of that, it's very obvious that the latest estimate revision activity also favors Facebook. Finally, Facebook currently sports a Zacks Rank #2 (Buy), which bests Alphabet's Zacks Rank #3 (Hold) and underscores its strength after reporting.
Want more stock market analysis from this author? Make sure to follow @
https://twitter.com/Ryan_McQueeney
on Twitter!
More Stock News: 8 Companies Verge on Apple-Like Run
Did you miss Apple's 9X stock explosion after they launched their iPhone in 2007? Now 2017 looks to be a pivotal year to get in on another emerging technology expected to rock the market. Demand could soar from almost nothing to $42 billion by 2025. Reports suggest it could save 10 million lives per decade, which could in turn save $200 billion in U.S. healthcare costs.
A bonus Zacks Special Report names this breakthrough and the 8 best stocks to exploit it. Like Apple in 2007, these companies are already strong and coiling for potential mega-gains. Click to see them right now >>
Want the latest recommendations from Zacks Investment Research? Today, you can download 7 Best Stocks for the Next 30 Days.
Click to get this free report
Amazon.com, Inc. (AMZN): Free Stock Analysis Report
Netflix, Inc. (NFLX): Free Stock Analysis Report
Facebook, Inc. (FB): Free Stock Analysis Report
Alphabet Inc. (GOOGL): Free Stock Analysis Report
To read this article on Zacks.com click here.
Zacks Investment Research