Summary
XOM's downstream segment had taken a massive hit last quarter but investors can expect a turnaround as refining margins have started picking up pace.
Gasoline stocks are declining on account of an increase in demand and a drop in the total utilization rate of refineries in the U.S., which is leading to better margins.
XOM has lower refining unit costs than the overall industry due to its focus on integrated refineries that yield high margins, which will help it benefit from better refining margins.
To optimize its portfolio, XOM is selling its Montana refinery since it is not an integrated operation, while expanding Beaumont simultaneously in order to benefit from higher fuel demand.
The downstream business of Exxon Mobil (NYSE:XOM) is in a soup as lower refining margins in recent months have taken a heavy toll on the performance of this segment. In fact, last quarter, Exxon's downstream segment took a hit of $850 million to its earnings on account on weak refining margins as compared to the year-ago period. This slashed the downstream business' earnings in almost half for Exxon, as shown in the chart below:
Source: Exxon Mobil
The problem in the downstream won't last long
The reason why the downstream segment took such a massive hit on a year-over-year basis last quarter can be attributed to a weaker refining environment as the refining marker margins declined and utilization rates increased. This is shown in the chart below: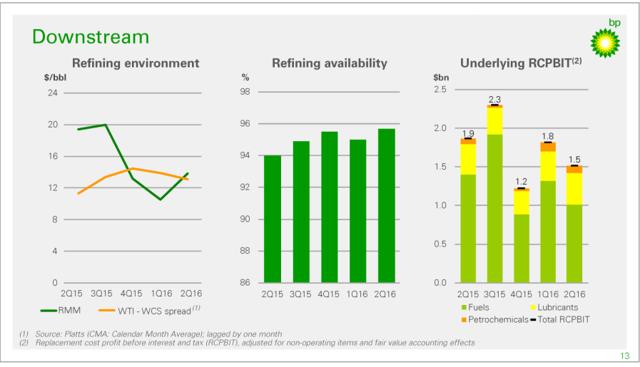 Source: BP
Thus, as refiners tried to take advantage of higher refining margins that were prevalent a year-ago, they ramped up output. But, a milder-than-anticipated winter put paid to their hopes of capitalizing on the higher margins as demand fell on account of cheaply-priced heating oils, which ultimately led to...
More