US dollar menguat terhadap major currency oleh adanya prospek perekonomian AS yang mengalami pertumbuhan, yang mensupport the Fed untuk mengurangi paket stimulusnya.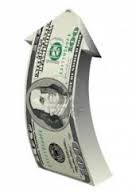 US dollar indeks terpantau menguat dalam enam hari sebelum the Fed mengadakan pertemuan pada tanggal 28-29 Januari mendatang. Sementara euro menghapus pelemahan dalam empat hari terhadap yen sebelum dirilisnya data business confidence dari German, negara dengan perekonomian terbesar di eropa tersebut mengalami kenaikkan ke level tertingginya dalam delapan tahun terakhir. Untuk New Zealand Dollar menguat didukung oleh inflasi negara tersebut yang mengalami akselerasi melebihi perkiraan analis mendukung kebijakan bank sentral untuk mengetatkan kebijakannya.
"Kesempatan masih ada bagi penguatan US dollar dalam jangka pendek" kata Stan Shamu, market analis dari IG Ltd di Melbourne. "saya melihat masih akan adanya perkembangan terhadap pertumbuhan ekonomi AS. Akan ada tindakan the Fed yang agresif terkait dengan tapering dalam jangka dekat"
US dollar menguat 0.3% menjadi 104.44 terhadap Yen di Tokyo setelah sempat melemah 0.4% dalam tiga sesi sebelumnya. Sementara US dollar diperdagangkan dikisaran $1.3542 terhadap euro dari level sebelumnya dikisaran $1.3552. Sementara euro menguat 0.2% menjadi 141.42 terhadap yen dari level sebelumnya menyentuh level 140.33 yang merupakan level terendahnya sejak 6 desember lalu.