The EUR/USD has been bullish in 2017, starting slow but accelerating higher in April and May. However, it has stalled in June and recent price action suggests a top.

EUR/USD 4H Chart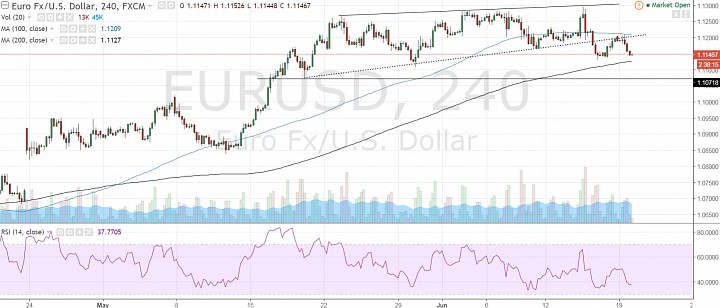 (click to enlarge)

Rising Wedge (Diagonal Triangle):
- There is a pattern call the diagonal triangle, which is noted in Elliott Wave Principles. The 4H chart shows that there was such a pattern, and price broke below it last week.
- So far this week, price has rebounded to test this broken diagonal triangle and so far respected the price top structure.
- Holding under 1.12 also held price under the 100-period simple moving average (SMA) in the 4H chart. This is a bearish sign for the short-term.
- Also note that the RSI has failed to tag 70, showing a loss of bullish momentum. If it falls below 30, it would reflect introduction of bearish momentum in the short-term, which opens up a medium-term bearish correction or consolidation.
Consolidation/Bearish Correction:
- We should anticipate a period of consolidation or bearish correction.
- There is downside risk in the very short-term to at least test the 1.1070 support pivot.
- For now, since the prevailing trend has been bullish in 2017, we should limit the bearish outlook to 1.09. This would still be within the context of an overall uptrend.
- A break below 1.0820 on the other hand would suggest that the run down was more than just a correction. This would open up the bearish outlook that would open up the 2016 low of 1.0340.
- For now, we should respect the bullish trend established so far this year.