Trade with confidence. Are you a professional trader? Be the first to get the alert with Benzinga Pro's real-time newsfeed and audio squawk and never miss an opportunity again.
Don't miss the chance to try it FREE today.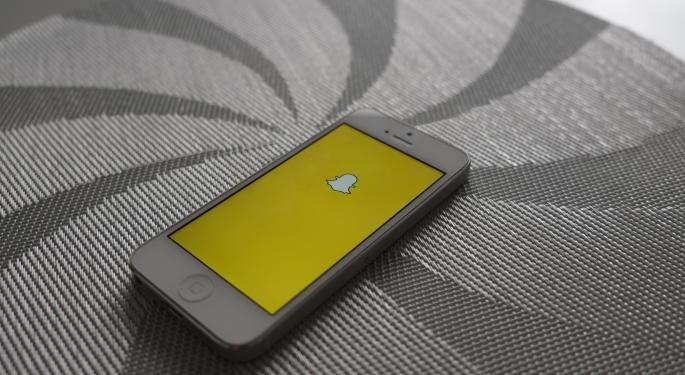 Twitter Inc TWTR 1.71% is at "most risk" from the rise of privately-held Snapchat, according to a note from Bob Peck of SunTrust Robinson Humphrey. who explained why digital media investors should worry about the media sharing and messaging app.
Peck said Snapchat has a valuation greater than Twitter's (about $16 billion). Twitter has a market cap of about $12 billion.
The analyst said Snapchat, backed by Lightspeed, Benchmark, KPCB, Alibaba and Fidelity, has about 150 million daily active users. A recent Re/code report said Snapchat is expected to generate at least $300 million of revenues this year.
Peck listed out key reasons why digital media investors should care about Snapchat:
"Users are growing, potentially taking away some growth from other platforms"
"Users are engaging deeper, taking more time away from others"
"Media companies are embracing Snapchat, providing free content – this can create content disadvantages for competitors"
"Advertisers are actively shifting budget to the platform (at the potential risk to other platforms)"
"Top talent from slower growing platforms has been joining, potentially impacting the other platforms' innovation and growth."
"We believe it is all of the above, which is why we think it should be on the radar of every Facebook and Twitter investor at minimum," Peck wrote in a note.
Vs. iOs Vs. Android
Meanwhile, the analyst highlighted that Snapchat surpasses Twitter, Facebook Inc FB 0.44%, and Instagram on app ranking charts, hitting No. 1 and No. 2 in iOS and Android store, respectively.
According to the note, Snapchat has remained neck‐to‐neck on iOS with Instagram while significantly outperforming Twitter. Meanwhile on Android where Snapchat was launched later, Peck said it has seen a steady improvement until it surpassed Twitter and Instagram in late 2015 and most recently surpassed Facebook.
"We believe this data corroborates an investor concern that Twitter is most at risk by the rise of Snapchat," Peck noted.
The analyst added that Snapchat's curated Live Story delivers superior experience to Twitter's Moments.
"We also found that after the initial learning curve of Snapchat, its user interface become second nature and navigating it becomes quick and easy, whereas the user interface of Twitter continues to remain challenged with complex syntax," Peck highlighted.
Advertising Dilemma
Meanwhile, Twitter may lose advertising dollars to Snapchat even as the digital market is poised for uptick in advertising spending versus traditional mediums such as Print and TV.
According to eMarketer, Facebook leads worldwide ad revenues with an estimated $21 billion in revenues. However, the analyst said the data shows that Twitter and LinkedIn Corp LNKD 1.36% as the only other standouts with single digit market shares.
"We believe this indicates after marketers have allocated a budget to Facebook, the remaining dollars are fairly fluid. We believe Snapchat may consolidate some of that money as marketers look to experiment on the platform with Twitter most at risk to see dollars move away," Peck noted.
The analyst also warned that Snapchat is closing Twitter in terms of user base. While Facebook has over a billion daily active users now, the analyst see that Snapchat was approaching Twitter last year.
"While Twitter's overall monthly active user count has increased, we believe the amount of daily active users has remained stable translating into a lower percentage of overall users. We believe that a year later, Snapchat has daily active users closer to 150 million, which would be on par with Twitter, which has seen DAUs stabilize," Peck said.
Snapchat has upcoming opportunities in ecommerce, original video content, and payments. Snapchat may have to deal with Amazon.com, Inc. AMZN 0.47% In ecommerce, Netflix, Inc. NFLX 2.7% in original video content and PayPal Holdings Inc PYPL 1.55% in payments space.
"Lastly, we believe Twitter, Periscope, Instagram, Facebook, WhatsApp, and traditional SMS are at minimum in the middle of the Venn diagram that is Snapchat," Peck added.
Date
Firm
Action
From
To
Apr 2016
Credit Suisse
Maintains
Outperform
Apr 2016
Axiom
Maintains
Buy
Apr 2016
Citigroup
Maintains
Buy
© 2016 Benzinga.com. Benzinga does not provide investment advice. All rights reserved.