A glimpse of L Brands, Inc. LB share price movement reveals that it has surged 29% in the past three months compared with the Zacks categorized Retail-Apparel/Shoe industry's decline of 3.8% and Retail-Wholesale sector's growth of 6.6%. Further, the stock's long-term earnings per share growth rate of 11.3% and a VGM Score of "B" portray its inherent strength.
What Propelled the Stock?
L Brands continues to revamp business by improving store experience, localizing assortments and enhancing direct business. We believe these measures will facilitate it to generate incremental sales and increase store transactions through higher conversion rate. Further, the company's foray into international markets is likely to provide long-term growth opportunities and generate increased sales volumes.
We believe that L Brands' sustained focus on cost containment, inventory management, merchandise, and speed-to-market initiatives has kept it afloat in a competitive environment. This is evident from its positive earnings surprise history. In the trailing seven quarters, it has outperformed the Zacks Consensus Estimate by an average of 8.6%.
Following better-than-expected bottom-line performance in the first quarter, the company raised fiscal 2017 guidance. Management now projects earnings in the band of $3.10–$3.40 per share, up from the previous guidance of $3.05–$3.35. Management anticipates annual operating income to increase by 10% in the long run.
L Brands with its operational efficiencies, new and innovative assortments remains well positioned to capitalize on the same. The company has undertaken strategic initiatives to streamline its Victoria's Secret business and remains optimistic about investment in China and White Barn remodels at Bath & Body Works.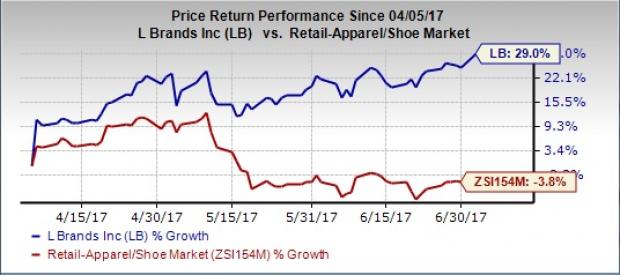 Short-Term Challenges
L Brands foresees short-term challenges due to its decision to exit the swimwear category, which according to analysts has failed to generate desired results. For the first quarter of fiscal 2017, the exit of the swim and apparel categories had an adverse impact of 6% and 9%, respectively to total company comps and Victoria's Secret comps. In fiscal 2016, the same had a negative impact of 6% and 9%, respectively.
L Brands now anticipates comparable sales in the second quarter to decline in the mid-single digit range and flat to up low-single digits for the go-forward business.
Further, management anticipates gross margin to deteriorate year over year during the second quarter as well as fiscal 2017. In the first quarter, adjusted gross profit dropped 14% to $902.9 million, while gross margin contracted 320 basis points (bps) to 37.1% primarily due to buying and occupancy expenditure deleverage. We noted that gross margin have contracted 230 bps, 190 bps, 180 bps and 170 bps in the fourth, third, second, and first quarters of fiscal 2016 to 43.3%, 39.7%, 38.5% and 40.3%, respectively.
Given the pros and cons embedded, the stock carries a Zacks Rank #3 (Hold).
Key Picks in Retail Space
Top ranked stocks in the retail space include G-III Apparel Group, Ltd. GIII, Tilly's, Inc. TLYS and The Children's Place, Inc. PLCE. All the three stocks sport a Zacks Rank #1 (Strong Buy). You can see the complete list of today's Zacks #1 Rank stocks here.
G-III Apparel has a long-term earnings growth rate of 15%.
Tilly's delivered an average positive earnings surprise of 120.4% in the trailing four quarters and has a long-term earnings growth rate of 13%.
Children's Place delivered an average positive earnings surprise of 36.6% in the trailing four quarters and has a long-term earnings growth rate of 8%.
Today's Stocks from Zacks' Hottest Strategies
It's hard to believe, even for us at Zacks. But while the market gained +18.8% from 2016 - Q1 2017, our top stock-picking screens have returned +157.0%, +128.0%, +97.8%, +94.7%, and +90.2% respectively.
And this outperformance has not just been a recent phenomenon. Over the years it has been remarkably consistent. From 2000 - Q1 2017, the composite yearly average gain for these strategies has beaten the market more than 11X over. Maybe even more remarkable is the fact that we're willing to share their latest stocks with you without cost or obligation. See Them Free>>
Want the latest recommendations from Zacks Investment Research? Today, you can download 7 Best Stocks for the Next 30 Days.
Click to get this free report
Children's Place, Inc. (The) (PLCE): Free Stock Analysis Report
Tilly's, Inc. (TLYS): Free Stock Analysis Report
L Brands, Inc. (LB): Free Stock Analysis Report
G-III Apparel Group, LTD. (GIII): Free Stock Analysis Report
To read this article on Zacks.com click here.
Zacks Investment Research