CNBC TV personality and "Mad Money" host Jim Cramer has built a lucrative career as a stock picker, but a new analysis of his charitable fund—a personal stock portfolio he co-manages that the financial website he founded has built a subscription service upon—shows he doesn't beat the market.
Cramer's Action Alerts Plus portfolio has underperformed the S&P 500 index SPX, -0.85% in terms of total cumulative returns since its 2001 inception, according to a working paper released Friday by Jonathan Hartley and Matthew Olson, researchers from the Wharton School at the University of Pennsylvania. While the fund outperformed the 500-member index in the years leading up to the 2008 financial crisis—which Hartley said was partially a reflection of the fund's previous inclusion of small-cap companies and growth stocks that were outperforming during the pre-recession bull run—things have gotten worse since 2011, with Action Alerts Plus falling 9.5% in that year, when the S&P 500 was unmoved. It rose just 1.3% in 2014, versus an 11.4% increase for the S&P, the study found.
The Wharton researchers released the report Friday to coincide with the release of the new film "Money Monster," which stars George Clooney as a financial news host with a show similar to "Mad Money." In the film, a less-sophisticated investor named Kyle Budwell takes Clooney's character hostage with a bomb vest after losing all of his money because of a bad stock recommendation made on TV.
The Action Alerts Plus portfolio, which is used in part by Cramer and TheStreet.com to sell $15-a-month newsletter subscriptions that provide subscribers information about the fund's holdings, its buy-and-sell strategy and exclusive market commentary from Cramer, was found to have returned 64.5% cumulatively over the past 15 years, versus 70% for the S&P 500, when adjusted for the reinvestment of dividends, according to the Wharton researchers' study. The Vanguard Diversified Equity Fund, by comparison, a mutual fund composed of a blend of U.S.-based companies, has underperformed the S&P 500's total return by 0.8% over the last 10 years, according to Morningstar.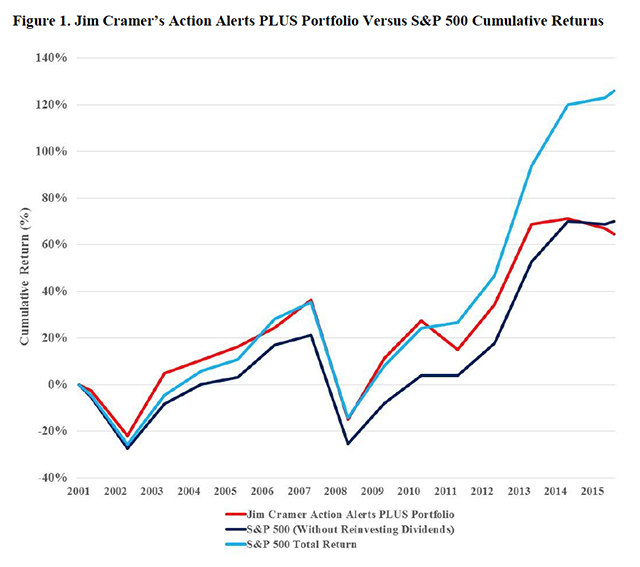 In addition to co-managing Action Alerts Plus, Cramer is the founder of TheStreet Inc. TST, +0.00% and one of six directors on the company's board. He has hosted his CNBC financial show on weeknights, recommending individual stocks to buy...
More