Royal Caribbean Cruises Ltd. RCL operates as a global cruise and vacation company. Given the strength and diversity of its brands and itineraries, this cruise operator has successfully captured the potential and repeat cruise vacationers.

The company's North American products and Asia itineraries have been performing strongly over the past few quarters. Also, the company's decision to invest in the fast-growing Chinese cruise markets is commendable. Going forward, strong booking and demand trends, ship and technological innovation, capacity growth, along with various profit-generating initiatives are expected to drive growth.

However, higher marketing and promotional spend along with increased cruise costs has been hurting margins. Further, lingering global uncertainties in key operating regions coupled with negative currency translation might continue to limit top-line growth.

Investors should note that the consensus estimate for RCL has been moving upwards over the last 60 days. Meanwhile, RCL's earnings have been strong over the past few quarters. In fact, the company posted positive earnings surprises in each of the last four quarters, with an average beat of 4.63%. However, revenues lagged the Zacks Consensus Estimate in each of the trailing four quarters.
Royal Caribbean Cruises Ltd. Price and EPS Surprise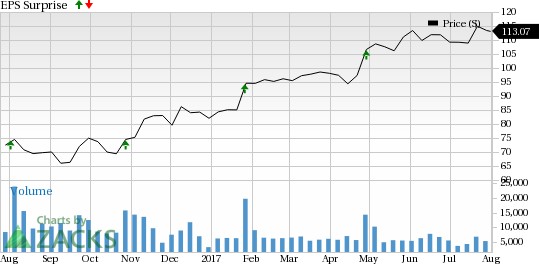 Royal Caribbean Cruises Ltd. Price and EPS Surprise | Royal Caribbean Cruises Ltd. Quote
RCL currently has a Zacks Rank #3 (Buy) but that could change following Royal Caribbean's earnings report which was just released. You can see the complete list of today's Zacks #1 Rank (Strong Buy) stocks here.

We have highlighted some of the key stats from this just-revealed announcement below:

Earnings: RCL beats on earnings. Our consensus earnings estimate called for earnings per share of $1.67 and the company reported earnings of $1.71 per share. Investors should note that these figures take out stock option expenses.

Revenues: RCL reported revenues of $2.195 billion, marginally beating our consensus estimate of $2.191 billion.

Key Stats to Note: On a constant currency basis, net yields were up 11.5% year over year, better than the guidance. Net cruise costs (NCC), excluding fuel decreased 0.9% on a constant currency basis in second-quarter 2017, lower than the guidance.

Stock Price Impact: At the time of writing, the stock price of Royal Caribbean was up nearly 4% during the pre-market trading hours following the earnings release.

Check back for our full write up on this RCL earnings report later!

Will You Make a Fortune on the Shift to Electric Cars?

Here's another stock idea to consider. Much like petroleum 150 years ago, lithium power may soon shake the world, creating millionaires and reshaping geo-politics. Soon electric vehicles (EVs) may be cheaper than gas guzzlers. Some are already reaching 265 miles on a single charge.

With battery prices plummeting and charging stations set to multiply, one company stands out as the #1 stock to buy according to Zacks research.

It's not the one you think.
Want the latest recommendations from Zacks Investment Research? Today, you can download 7 Best Stocks for the Next 30 Days.
Click to get this free report
Royal Caribbean Cruises Ltd. (RCL): Free Stock Analysis Report
To read this article on Zacks.com click here.
Zacks Investment Research