The bottom-callers are out en masse as crude oil prices head for the 3rd up-day in a row and the biigest bounce since OPEC's last meeting. Overnight comments from the BP CEO on OPEC "wanting to test the market" and OPEC delegates warnings that this rebound may not be long-lasting,"prices are stabilizing around $40 to $45, but the world economy is not very strong and stocks are too high.'' Other OPEC delegates suggested prices will drop to $30-35 before this is over (in the first or second quarter)...
BP CEO is not exactly upbeat...
Oil prices may stay depressed until summer due to weak seasonal demand even as Saudi Arabia's strategy of curbing the output growth of rival producers might have started achieving tangible results, OPEC delegates told Reuters.

 

...

 

Two other OPEC delegates, one of whom is from a Gulf producer, said they could not rule out prices dropping to as low as $30-$35 due to weak demand combined with global refinery maintenance in the first and second quarters of 2015.

 

"Prices are supported now by winter and stockpiling,'' one of the delegates said.

 

Another Gulf delegate said: "The general feeling is that prices will still remain lower than what we all want because of the excess of supply in the market. The expectation is that these stocks will not decrease before the first half of the year.''

 

"There are a number of good signs, for example the shutdown of some production in the U.S. and Canada. So it means that the policy decision made in the last meeting was the correct one, it'll be slow, painful for some more than others but in the end effective,'' that delegate said.
Biggest jump since OPEC...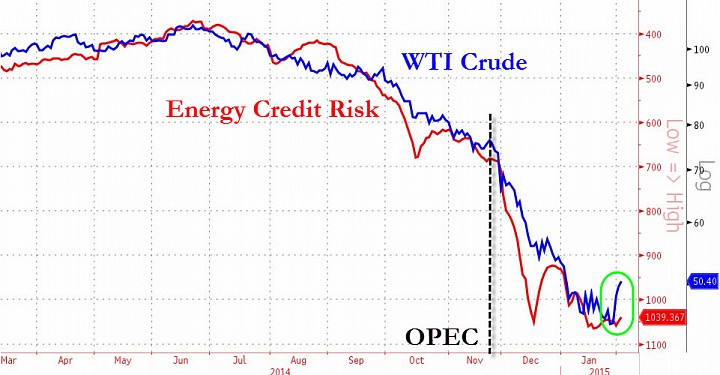 But credit is not buying it...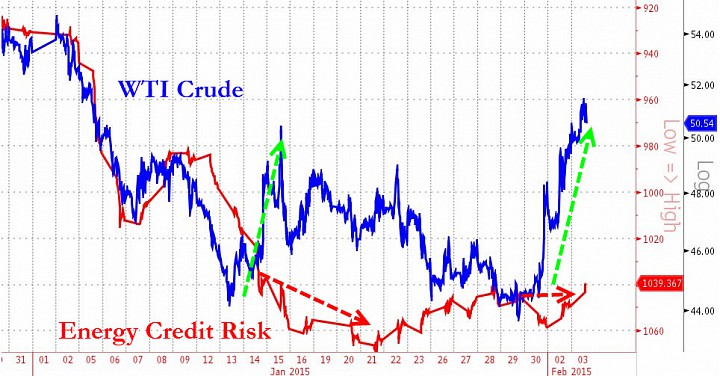 Charts: Bloomberg