Another day, another technical breakdown, only this time not for the US but for the entire world, or rather for some 73 country indices shown in local currencies.
As BofA points out, "the weekly global A-D line shows a 2011-style breakdown", which it notes "is a market risk", although it remains unclear if central banks, and China's National Team in particular, use technicals when deciding to manipulate stocks.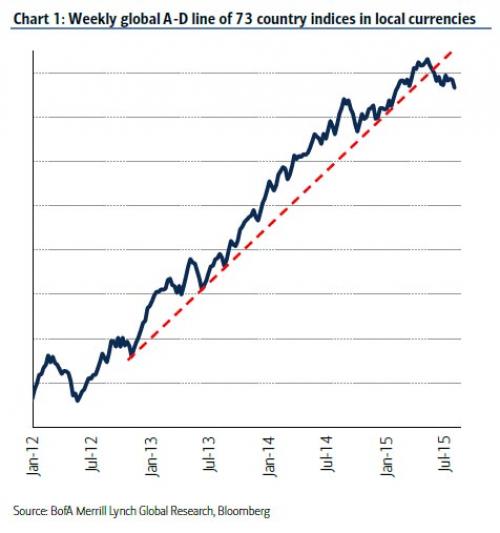 Specifically, the weekly global advance-decline (A-D) line of 73 country indices broke to 6-month lows and is also below the uptrend line from 2012.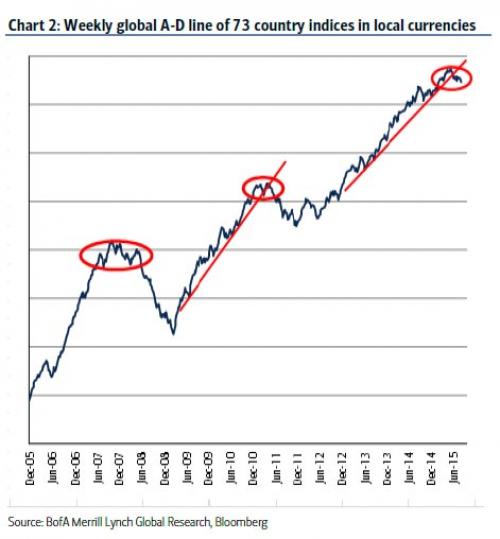 BofA adds:
This points to diminishing global market breadth and is a warning for global equity markets, in our view. The mid-2015 pattern for the weekly global A-D line is similar to the 2011 move below the uptrend line from 2009 and the June 2011 breakdown from a 6-month double top. The mid-2011 deterioration in the global A-D line preceded higher volatility and pullbacks for  global equity market benchmark indices into the seasonally weak 3-month period of August October.
To be sure, since BofA is eager to leave it on a positive note, it is quick to point out the divergence between the US and the rest of the world:
The MSCI United States (US) relative to the MSCI World ex-US (ROW) remains in a solid uptrend, with a breakout to new highs that coincided with a decade-long base in the US Dollar Index (DXY). Although both the US/ROW and the DXY have consolidated these breakouts, the bigger picture patterns continue to favor the US relative to ROW and a stronger DXY.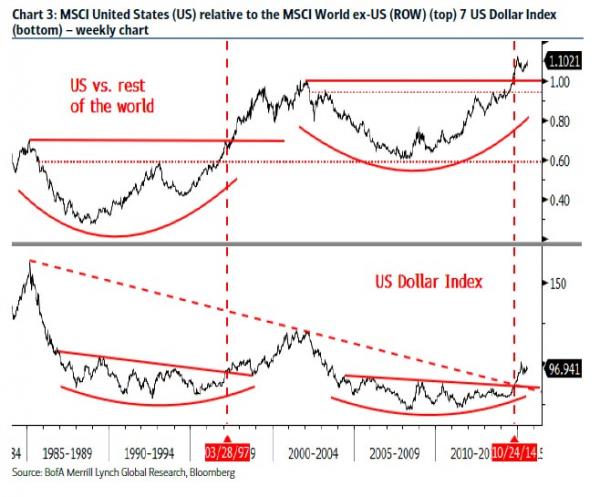 Unless, of course, the bigger momentum picture changes and the other alternative materializes, one which sees the US breakout "revert" to the trajectory of rest of the world, whether due to rate hike concerns, the inability to defend the 200-DMA, or for any other reason.
The answer may come as soon as this afternoon after the FOMC minutes, although the definitive response will have to wait until the September rate (non) hike, which as everyone now admits, has been so far "discounted" by the market with an unprecedented complacency, or as some traders note "is not priced in" at all.