What happened
Shares of Keryx Biopharmaceuticals (NASDAQ: KERX), a commercial-stage biopharma focused on kidney disease, fell 8.6% in October according to data from S&P Global Market Intelligence. However, there wasn't any significant news released during the month that could explain the fall. Investors can probably chalk up the move to normal biopharma volatility. 
So what
Keryx sells a drug called Auryxia that is used to regulate phosphate levels in patients with chronic kidney disease on dialysis. While the drug won FDA approval in 2014 and has been available for sale in Japan for a few years, sales growth has been painfully slow. Keryx's total revenue in all of 2015 was only $13.6 million. While that number jumped to $31.9 million in 2016 it was still nowhere near enough for the company to reach profitability. That's disappointing since some thought that Auryxia held blockbuster potential.  
For 2017, management is guiding for U.S. Auryxia product sales to land between $62 million and $66 million. While that represents another year of growth, that's still not enough revenue to cover the company's expenses. When this fact is combined with the company's checkered history, it isn't surprising to see that Keryx's investors have been bludgeoned since Auryxia first received FDA approval.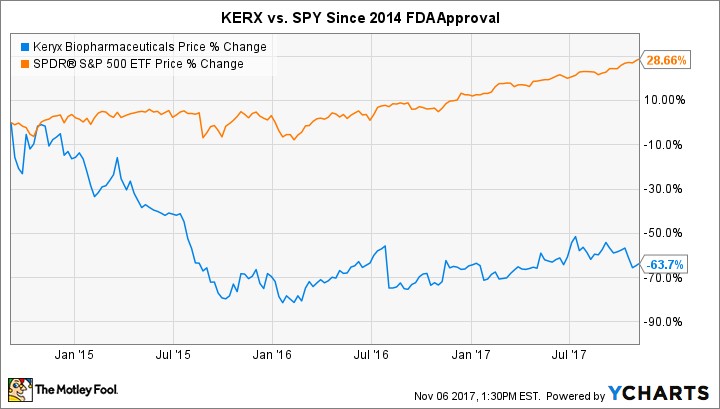 However, the company's fortunes could finally be poised to turn. A few months ago management submitted a label expansion claim to the FDA seeking to enable Aurxyia to be used in patients with non-dialysis dependent chronic kidney disease that also have iron deficiency anemia. That might sound like a niche indication, but if actually represents an enormous opportunity for the company. If the company gets the green light, then it could go a long way toward silencing the critics.
Now what
The FDA's go/no-go decision on the label expansion claim is slated to be released later today (Nov. 6th). Will the FDA provide investors with the news that they want to hear? It won't be long until we know more.
10 stocks we like better than Keryx Biopharmaceuticals
When investing geniuses David and Tom Gardner have a stock tip, it can pay to listen. After all, the newsletter they have run for over a decade, Motley Fool Stock Advisor, has tripled the market.*
David and Tom just revealed what they believe are the 10 best stocks for investors to buy right now... and Keryx Biopharmaceuticals wasn't one of them! That's right -- they think these 10 stocks are even better buys.
Click here to learn about these picks!
*Stock Advisor returns as of October 9, 2017
Brian Feroldi has no position in any of the stocks mentioned. The Motley Fool has no position in any of the stocks mentioned. The Motley Fool has a disclosure policy.