Japanese bond rout spurs concern selling will spread globally
Goldman Sachs says changes in BOJ policy have worldwide impact
One of the pillars of 2016's record-setting global bond rally is starting to buckle.
Japan's sovereign debt is suffering its worst rout in 13 years, handing investors bigger losses over the past two months than any other government bonds amid speculation the Bank of Japan plans to change its asset-purchase strategy. The reversal is spurring concern the second-largest debt market is the vanguard for a broader selloff. DoubleLine Capital Chief Investment Officer Jeffrey Gundlach said investors should prepare for bonds to fall.
"The impact of the BOJ's stimulus is that the bond markets worldwide are becoming one market," said Chotaro Morita, the chief rates strategist at Tokyo-based SMBC Nikko Securities Inc., one of the 21 primary dealers that trade directly with the central bank. "If there's a reversal of policy, you can't rule out that it would roil global debt."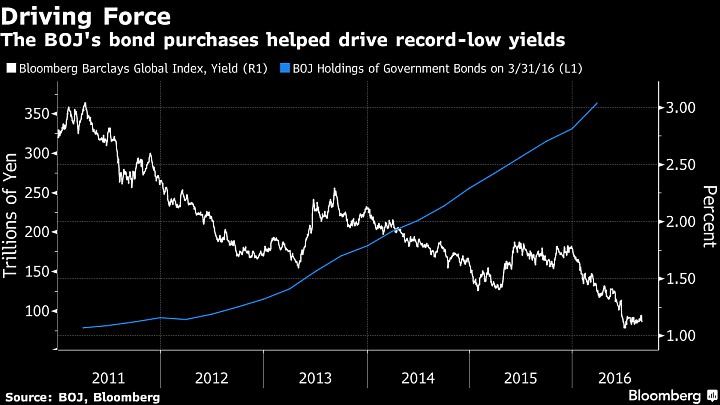 Treasury benchmark notes were little changed Friday with a yield of 1.61 percent as of 8:30 a.m. in London, based on data compiled by Bloomberg. The yield rose six basis points Thursday in the U.S., and Australian yields followed Friday by advancing 10 basis points to 1.96 percent.
In Japan, the 10-year benchmark climbed three basis points to minus 0.01 percent, rebounding from the record low of minus 0.3 percent set in July.
"This is a big, big moment," DoubleLine's Gundlach said in a webcast Thursday. "Interest rates have bottomed. They may not rise in the near term as I've talked about for years. But I think it's the beginning of something and you're supposed to be defensive."
BOJ Governor Haruhiko Kuroda has been at the forefront of the global experimentation in monetary policy that's extended a three-decade bull run for bonds and seen yields on as much as $8.5...
More