EUR/USD is testing a multi-year consolidation range resistance. It is testing the upper bound of that resistance as we can see on the weekly chart.

EUR/USD Weekly Chart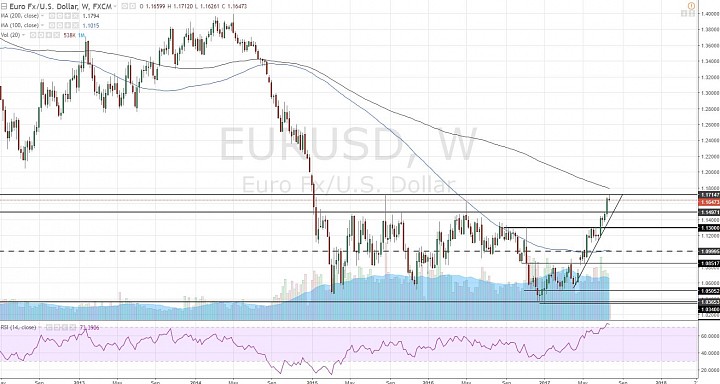 (click to enlarge)

Range Resistance:
- The weekly chart shows that EUR/USD is testing range resistance around 1.1715.
- This is a strong attack at this resistance than the previous couple of times, so I would not be surprised if price eventually breaks through.
- If we are to have a bearish idea here, we should limit the expectation because even if there is a bearish swing from resistance, it might just a small reaction before the market buys on the dip and pushes price above the 1.1715 resistance.
Reward to Risk:
- Let's say we set up a sell at 1.17.
- Let's say we put a stop at 1.1760.
- The target has to be very conservative. I think 1.15 is a conservative conservative target, while the 1.13 level is the aggressive conservative target. Both are well within the context of a bullish trend that will break above 1.1715.
- The target of 1.15 yields a reward to risk ratio of 3.33:1. The 1.13 target yields a r:r of 6.66:1.
- I think even the conservative 1.15 target by itself yields a decent reward to risk for a quick sell reaction off of a critical resistance, even if EUR/U:SD will eventually break above that resistance.