Certain real estate investment trusts (REITs) can be an excellent way for investors to meet their income needs, especially for folks living off dividends during retirement.
That being said, as with all investments, it's important to be careful and focus on high quality stocks with a long-term-focused management team, a safe dividend, a strong balance sheet, and good growth prospects.
So let's take a closer look at Omega Healthcare Investors (OHI), America's largest skilled nursing facility (SNF) REIT and one of the 30 best high dividend stocks here, to see if it still meets all of these criteria given the fast-changing healthcare landscape.
Business Overview
Founded in 1992 in Hunt Valley, Maryland, Omega Healthcare Investors is America's largest SNF and senior housing REIT, with 972 properties rented to 77 operators across America and the UK.
The company's largest state (Ohio) accounts for 10.4% of total rent and Omega's three largest tenants generate 24% of total rent (Ciena 10%, Signature 7%, Genesis 7%), so the business is fairly diversified.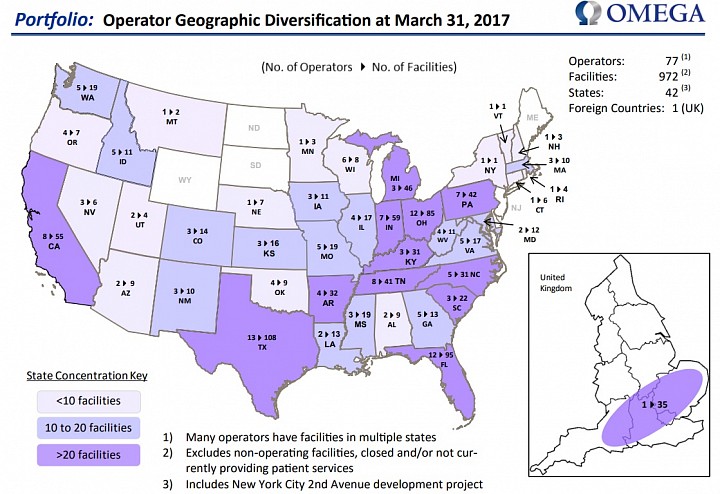 Source: Omega Healthcare Investor Presentation
Approximately 83% of Omega Healthcare's total revenue is from rents paid by its tenants, which receive revenues through Medicare and Medicaid reimbursements as well as private pay for their services.
Omega receives fixed rent payments from its tenants with annual escalators and uses triple net lease agreements, which are generally thought to be lower-risk deals because they require the tenant to pay property taxes, insurance, and maintenance expenses.
The remaining 17% of Omega's revenue comes from loans and mortgages it finances to construct third-party facilities.

Of the company's total rental revenue the vast majority is derived from SNF facilities, which are Omega Healthcare's specialty; senior housing accounts for the remaining 15% of rental revenue.
Business Analysis
Omega Healthcare has a great long-term track record of providing superior total returns, both compared to the S&P 500 and its rival medical REITs.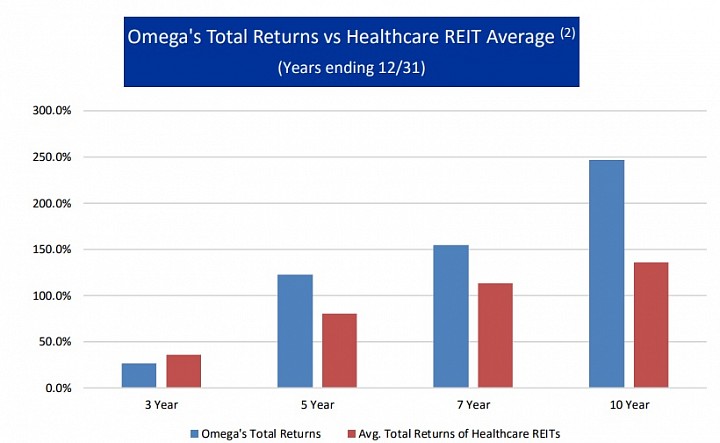 That's courtesy of Omega's impressive 10.8% annual dividend growth over the past 14 years, a result of very fast, acquisition-fueled growth in the REIT's property portfolio and adjusted funds from operation (AFFO – the REIT equivalent of free cash flow and ultimately secures and grows the dividend).
You can see that Omega Healthcare's spending on acquisitions (purple bars) has dwarfed its annual capex investments (dark blue bars) over the last decade.
The company boosted its property count by nearly 50% with its $3.9 billion acquisition of Aviv on April 1, 2015, which helped Omega gain operating, growth, and cost of capital efficiencies while increasing its diversification by state and operator.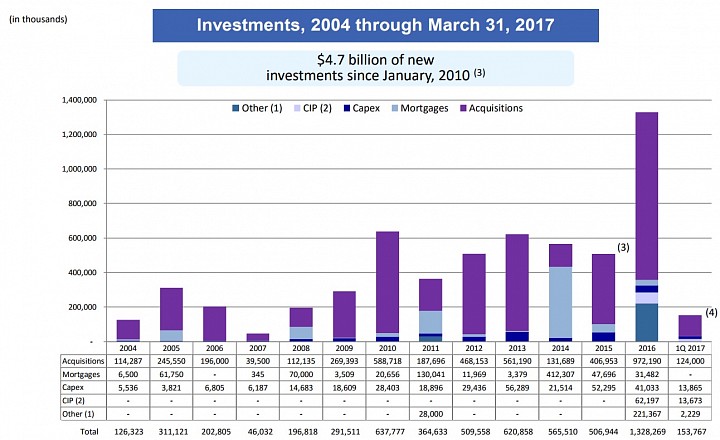 Thanks to its aggressive acquisitions, the company's gross investment base, core revenue, adjusted EBITDA, and AFFO have all compounded by at least 20% per year since 2004.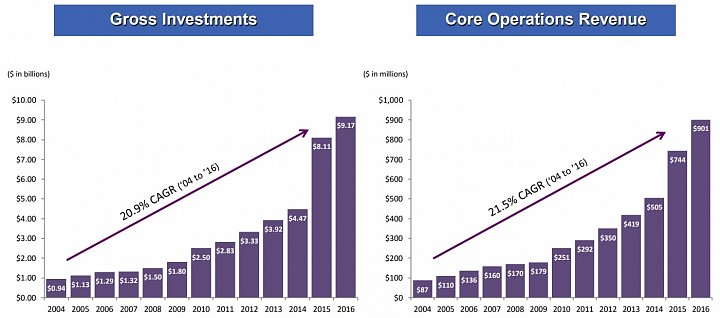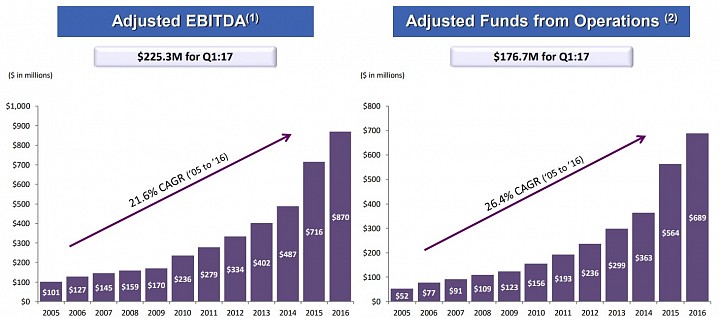 However, the key to Omega Healthcare's success isn't just its fast growth in a highly fragmented industry; it's also due to three major factors.
The first is that Omega Healthcare is a triple net lease REIT, meaning that the tenants pay the property taxes, maintenance, and insurance costs. Combined with very long-term and staggered contracts, this gives Omega Healthcare a profitable and dependable source of recurring cash flow from which to fund its steadily growing payout.
You can see that fewer than 5% of Omega Healthcare's leases expire any given year until 2022, and 90% of its portfolio expirations take place after 2021.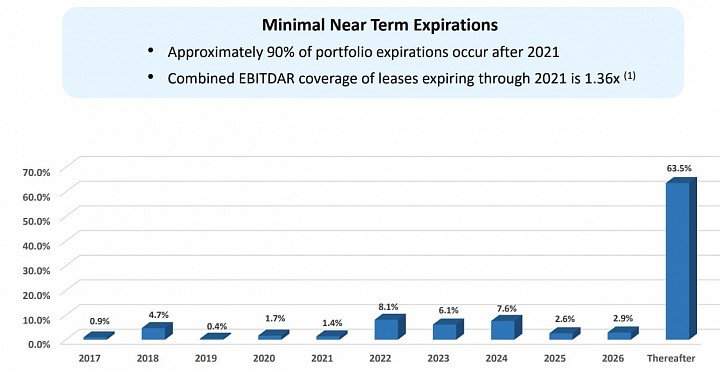 The second important factor is management's disciplined approach to growth. Specifically, that means targeting properties run by strong operators, meaning an EBITDARM (earnings before interest, taxes, depreciation, amortization, rent, and management fees) coverage ratio greater than one. That helps ensure that the operator is profitable enough to pay its rent.
While operating conditions can change quickly as the healthcare landscape continues evolving, only 3.4% of Omega Healthcare's rent is from distressed operators with EBITDARM coverage ratio below one today, and its overall portfolio carries a reasonable EBITDARM coverage ratio of 1.69.

Another major factor to Omega's success is management's excellent capital allocation track record, which has resulted in some of the industry's best profitability and returns on shareholder capital.

Sources: Morningstar, Gurufocus, Earnings Releases
Now part of this impressive profitability, especially the high AFFO margin, is due to Omega benefiting from growing economies of scale. That means that the administration costs of running the REIT get amortized over a steadily-growing property portfolio and the cash flow it generates.
However, the other major reason that Omega is arguably the gold standard in its industry is that management is highly disciplined in only buying properties that are immediately accretive to AFFO per share.
That's important because REITs must payout 90% of taxable income as dividends by law, meaning that most growth capital to acquire new properties must come from debt and equity markets.
Or to put it another way, the REIT business model is one where new capital is constantly flowing into the company. That means that poor management teams can sometimes grow the REIT's portfolio for its own sake, because it can increase their management fees (for externally-managed REITs) while diluting shareholders to the point where the dividend can't grow or must even be cut.
Fortunately Omega Healthcare is an internally-managed REIT, meaning that management is directly employed by shareholders and has its interest aligned with ours. Specifically this means that Omega is careful to only buy a new property, partly funded by the dilutionary sale of new shares, if the REIT's AFFO per share will increase as a result, and thus allow for continued dividend growth.
Finally, the third major factor to look at is Omega's access to cheap capital. Since the REIT industry is highly commoditized, one of the only competitive advantages a REIT can have is a weighted average cost of capital (WACC) low enough to allow it to profitably grow.
As you can see, thanks to Omega Healthcare's relatively high proportion of retained AFFO, its overall cost of capital is below its trailing 12-month return on invested capital (ROIC).
This means that management is being good stewards of investor capital, only taking on new debt or selling new shares if they have a profitable investment opportunity that will ultimately grow long-term shareholder value.

Sources: Simply Safe Dividends, Earnings Releases, Fast Graphs, Management Guidance
All of these factors (quality management, a large diversified portfolio of properties rented out to generally strong operators, and a low cost of capital) help explain why Omega Healthcare is one of the best SNF REITs. However, there's more to the investment thesis.
That's because Omega is likely to benefit from one of the century's strongest secular themes, the aging of the world's population. And given the underinvestment in SNF facilities over the past decade, demand for these facilities is expected to outpace supply in the coming decades.
You can see below that the supply of facilities and beds to meet increasing...
More