Sony Corporation SNE is set to report second-quarter fiscal 2017 results on Oct 31.
Last quarter, the company reported a positive surprise of 16.7%. Sony scored three colossal earnings beats over the trailing four quarters, with an average positive surprise of 69.9%.
Let's see how things are shaping up for this announcement.
Factors to Consider
Sony's fiscal second-quarter results will likely benefit from the booming Digital Entertainment Hub products, which have been driving strong profitability for the company in recent quarters.
The PlayStation4 console, which is arguably Sony's biggest growth driver, is going strong even after three years of release, as evidenced by the company's latest released numbers. The consumer electronics giant had announced a few months back that it has sold over 60.4 million units of the console to date. PS4 Pro, the upgraded version of PS4 gaming console, and virtual reality (VR) system are likely to act as major profit churners for the gaming business this quarter.
Also, the array of gaming applications for mobile products launched over the past two quarters is likely to bolster the gaming division revenues in the soon-to-be-reported quarter. Per latest figures from the Entertainment Software Association, the gaming market in 2017 will be worth $108 billion, and Sony's results are anticipated to benefit from such buoyant industry trends.
Sony has also been experiencing strong growth in its Music segment, driven by higher visual media and platform sales, and this will likely reflect in the upcoming quarter as well. Increase in media networks and television productions sales, as well as insurance premium revenues are expected to stoke growth of the Pictures and Financial Services segment respectively.
Other positive industry trends that will likely boost Sony's numbers include an uptick in smartphone and image sensor sales for mobile products, which will drive its Semiconductors segment sales.
In addition to this, Sony's focus on cost-saving initiatives, lower exposure in low-profit geographic regions and reduction in advertising & promotion expenses are expected to boost fiscal first-quarter results. Over the past few quarters, major restructuring efforts and internal shuffles have helped Sony optimize its business structure. This is estimated to prove conducive to operating profit growth in the upcoming quarters.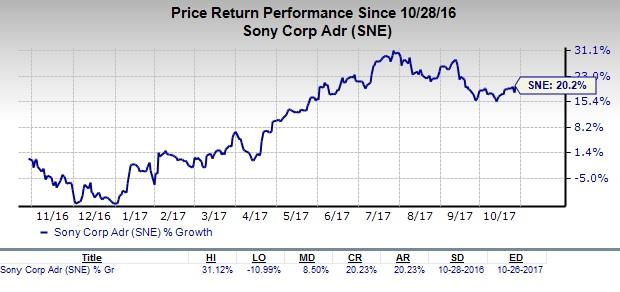 Despite these positives, lingering effect of the Kumamoto earthquakes, one of Japan's most formidable natural disasters in recent times, may prove to be an overhang for Sony's results. Moreover, costs associated with the ongoing restructuring efforts are likely to escalate operating expenses, thus restricting earnings and margin expansion in the quarter under review.
Earnings Whispers
Our proven model does not conclusively show that Sony will likely beat earnings estimates in this quarter. This is because a stock needs to have both a positive Earnings ESP and a Zacks Rank #1 (Strong Buy), 2 (Buy) or at least 3 (Hold) for this to happen. This is not the case here as you will see below:
Zacks ESP: Earnings ESP for the company is currently pegged at 0.00%. This is because both the Most Accurate estimate and the Zacks Consensus Estimate are pegged at 54 cents.You can uncover the best stocks to buy or sell before they're reported with our Earnings ESP Filter.
Zacks Rank: Sony has a Zacks Rank #2. While this increases the predictive power of ESP, we need to have a positive ESP to be confident about an earnings surprise.
It should be noted that we caution against stocks with a Zacks Rank #4 or 5 (Sell rated) going into the earnings announcement, especially when the company is seeing negative estimate revisions.
Stocks That Warrant a Look
Here are some companies that you may want to consider, as our model shows that these have the right combination of elements to post an earnings beat this quarter:
Terex Corporation TEX, with an Earnings ESP of +3.17% and a Zacks Rank of 2, is expected to release quarterly numbers around Nov 1. You can see the complete list of today's Zacks #1 Rank stocks here.
CNH Industrial N.V. CNHI, with an Earnings ESP of +8.11% and a Zacks Rank of 2, is slated to report results on Oct 31.
Aetna Inc. AET, with an Earnings ESP of +1.68% and a Zacks Rank of 1, is expected to report quarterly figures around Oct 31.
Wall Street's Next Amazon
Zacks EVP Kevin Matras believes this familiar stock has only just begun its climb to become one of the greatest investments of all time. It's a once-in-a-generation opportunity to invest in pure genius.
Want the latest recommendations from Zacks Investment Research? Today, you can download 7 Best Stocks for the Next 30 Days.
Click to get this free report
Sony Corp Ord (SNE): Free Stock Analysis Report
CNH Industrial N.V. (CNHI): Free Stock Analysis Report
Terex Corporation (TEX): Free Stock Analysis Report
Aetna Inc. (AET): Free Stock Analysis Report
To read this article on Zacks.com click here.
Zacks Investment Research