Here's a weekly chart of EUR/USD to get some long term perspective on the pair (always good to do during the weekend to situate yourself for the battle ahead). 
I previewed the key risk-events for the Euro-zone in an earlier blog post, so check that out to get yourself situated with the lay of the land for the upcoming skirmish. (Uh oh, too many military history YouTube videos for me this weekend!)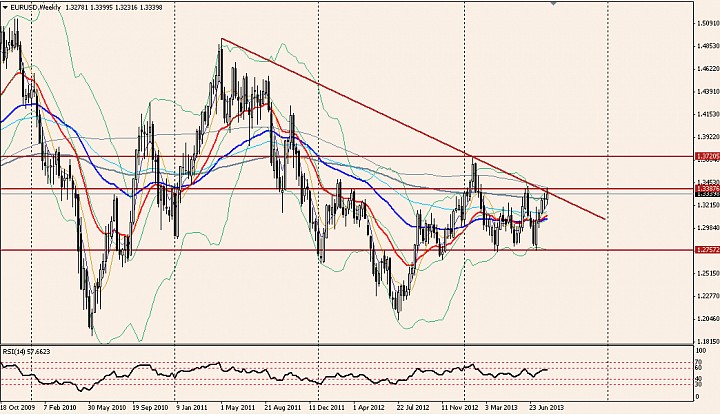 What jumps out from this chart right away is that a) we have a clear resistance level at the 1.34 handle, b) there's a long-term downward sloping trendline that is being tested and c) the 200-daily SMA (in black) capped last week's rally and was our high.
Therefore, if the pair managed to move above and hold the 1.34 handle with some momentum, the bullish case would be strengthened and the likely next medium term target will be the 1.3710 pivot set in late January.
However, a failure here (lets say the fundamental data disappoints this upcoming week) would also be an important signal. While it may not mean a total negation of the bullish structure we have seen over the past 5 weeks, it could imply that we get a bit of retrace before and moves higher, in which case we would look for important support levels on the way down to either buy dips (if we have a generally upward bias for the pair) or take some shorter-term stabs on the short side prior to getting more bearish signals.
Where do I sit in terms of fundamental bias for the pair? Well, like many other analysts there's no denying the macro data has been getting better of late from Europe, so more confirmation of that this week would keep me favoring the EUR over the USD, especially since the market is either a) not phased by a September taper, or b) is perhaps pricing in a slighly later taper as a result of the softish recent employment data. My bias then is  to generally favor the EUR though I can see the case for a retrace in the shorter term. Therefore, I'm going to let price action give me clues as we start the week, and monitor the fundy data closely to make sure I'm on the right side of the reaction.
- Nick