Merck & Co., Inc. MRK reported second-quarter 2017 earnings of $1.01 per share, which easily beat the Zacks Consensus Estimate of 87 cents by 16.1%. Earnings also rose 8.6% from the year-ago period.
Revenues for the quarter increased 1% year over year to $9.93 billion, beating the Zacks Consensus Estimate of $9.79 billion. Currency movement negatively impacted revenues by 1%. Excluding currency impact, sales rose 2% year over year.
Quarter in Detail
The Pharmaceutical segment posted revenues of $8.76 billion, up 1% (up 2% excluding Fx impact) year over year mainly backed by strong sales of PD-1 inhibitor, Keytruda.
Keytruda brought in sales of $881 million in second-quarter 2017, up 51% sequentially and 180% year over year. Sales continued to be driven by launch of new indications globally.
Keytruda sales in the U.S. gained particularly from strong momentum in the new indication of first-line lung cancer (approved in Oct 2016).
In the last 2-3 months, there were a series of regulatory approvals for the label expansion of Keytruda that should drive sales going forward. Important approvals include that for advanced bladder cancer, advanced microsatellite instability-high cancers and first approval as a combination therapy with Eli Lilly & Company's LLY cancer drug Alimta (pemetrexed) and carboplatin (pem/carbo), in lung cancer.
However, earlier this month, a pivotal phase III study of Keytruda in head and neck squamous cell carcinoma failed to meet the primary endpoint of overall survival. Also, three combination studies of Keytruda for multiple myeloma were placed on clinical hold, this month, following reports of death in the Keytruda groups.
Meanwhile, competition in the immuno-oncology market is rising following recent FDA approval of Pfizer, Inc.'s PFE Bavencio (avelumab) in Merkel cell carcinoma (MCC) and bladder cancer and AstraZeneca plc's AZN Imfinzi (durvalumab) in bladder cancer.
Zepatier brought in sales of $517 million, up from $378 million in the previous quarter, attributable to ongoing launches globally.
Bridion (sugammadex) Injection generated sales of $163 million in the quarter, up 44% year over year, driven by the strong uptake from launch in the U.S.
Meanwhile, combined sales of Remicade (lost exclusivity in Europe and facing stiff biosimilar competition in the region), Cubicin (lost patent protection in the U.S. in Jun 2016), Zetia (lost market exclusivity in the U.S. in Dec 2016) and Vytorin (lost U.S. exclusivity in Apr 2017) declined $830 million in the quarter. Sales of Isentress and the Januvia/Janumet (diabetes) franchise also declined in the quarter.
Remicade sales declined 39% to $208 million in the quarter. Merck markets the branded version of Remicade outside the U.S. while Johnson & Johnson (JNJ) markets the rheumatoid arthritis drug in the U.S. This week, Merck launched Renflexis, a biosimilar version of Remicade, in the U.S.
Cubicin sales plunged 71% to $103 million in the quarter. The Zetia/Vytorin franchise recorded sales of $549 million, down 45% due to loss of exclusivity for both Zetia and Vytorin.
The Januvia/Janumet franchise recorded sales of $1.51 billion in the quarter, down 8% from the year-ago quarter due to lower sales in the U.S. due to pricing pressure and lower customer inventory levels.
Isentress sales declined 17% in the quarter to $282 million. Lower volumes/demand due to competitive pressure is hurting sales of Isentress.
Vaccine sales were primarily driven by increases in Gardasil and Pneumovax vaccines. Vaccine sales were also boosted by the addition of approximately $70 million ($40 million from Gardasil) of sales from the terminated vaccine joint venture with Sanofi. Gardasil/Gardasil 9 sales climbed 19% to $469 million driven by strong demand in Asia Pacific and the favorable timing of sales in Brazil.
Merck's Animal Health segment posted revenues of $955 million, up 6% (up 7% excluding Fx impact) from the year-ago quarter, primarily driven by higher sales of companion animal products.
Margin Discussion
Adjusted gross margin came in at 77.6%, up 190 basis points (bps) quarter attributable to favorable effects of product mix and lower inventory write-offs
Marketing and administrative (M&A) expenses increased 3% to $2.4 billion in the reported quarter. Research and development (R&D) spend increased 8% to $1.7 billion in the quarter.
2017 Guidance
Despite lowering its expectations for negative impact of currency exchange rates, the company maintained its previously adjusted earnings guidance while raising its sales guidance marginally. The company expects adjusted earnings in the range of $3.76–$3.88 including approximately 1.0% negative foreign exchange impact (versus 1.5% previously).
Revenues are expected in the range of $39.4 billion – $40.4 billion compared with the earlier forecast of $39.1–$40.3 billion, including negative currency impact of approximately 1% (versus 1.5% previously).
Operating expenses are expected to increase year over year at a mid-single-digit rate compared with a low single-digit rate expected previously.
Our Take
Merck's second-quarter earnings were encouraging as the company beat both on sales and earnings. Strong performance of new products like Keytruda, Bridion and Zepatier and higher sales of vaccines and animal health franchises offset lower sales of diabetes franchise and loss of market exclusivity for many drugs.
Merck's shares have risen 8.2% this year so far, comparing unfavorably with 9.9% increase for the industry.
Merck also announced a cancer collaboration with AstraZeneca to jointly commercialize and develop the latter's PARP Inhibitor, Lynparza, both as monotherapy and in combination studies, for multiple cancer types. Lynparzais presently marketed for advanced ovarian cancer. Meanwhile, Merck will independently develop combination medicines with Lynpraza and Keytruda. For the deal, Merck will pay up to $8.5 billion in total consideration, including $1.6 billion in upfront payments.
Merck also said that a network cyber-attack in June disrupted its global operations which could result in a temporary delay in fulfilling orders of some products.
Merck & Company, Inc. Price, Consensus and EPS Surprise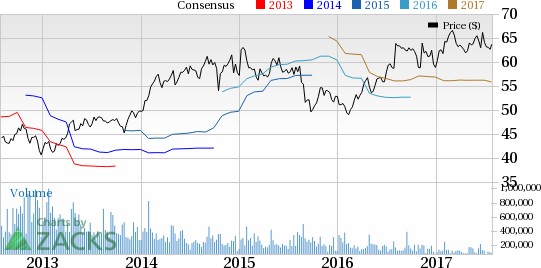 Merck & Company, Inc. Price, Consensus and EPS Surprise | Merck & Company, Inc. Quote
Merck carries a Zacks Rank #2 (Buy). You can see the complete list of today's Zacks #1 Rank (Strong Buy) stocks here.
The Hottest Tech Mega-Trend of All
Last year, it generated $8 billion in global revenues. By 2020, it's predicted to blast through the roof to $47 billion. Famed investor Mark Cuban says it will produce ""the world's first trillionaires,"" but that should still leave plenty of money for regular investors who make the right trades early.
See Zacks' 3 Best Stocks to Play This Trend >>
Want the latest recommendations from Zacks Investment Research? Today, you can download 7 Best Stocks for the Next 30 Days.
Click to get this free report
Astrazeneca PLC (AZN): Free Stock Analysis Report
Pfizer, Inc. (PFE): Free Stock Analysis Report
Eli Lilly and Company (LLY): Free Stock Analysis Report
Merck & Company, Inc. (MRK): Free Stock Analysis Report
To read this article on Zacks.com click here.
Zacks Investment Research