Shake Shack (NYSE:SHAK) is a fast casual restaurant chain which mainly serves burgers and fries. An important number of restaurants are located in New York. Actually, there are 74 Shake Shack restaurants worldwide and 17% of them are located in New York. Moreover, 45 restaurants are based in the United States. The bearish people would say that the firm is not diversified enough. On the other hand, the optimistic investor would argue that there is room to grow.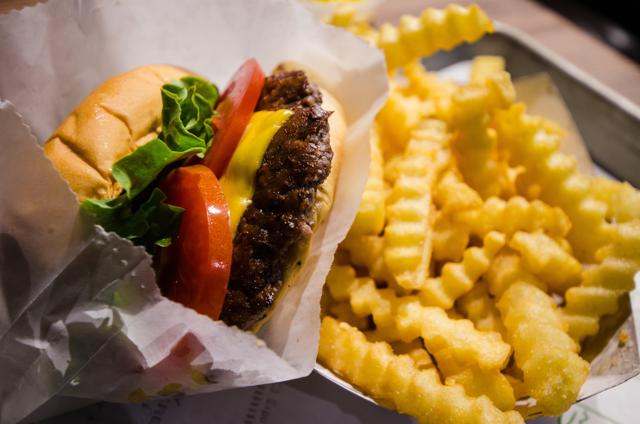 My opinion about Shake Shack is cruel. Based on any metrics, the stock is absolutely overvalued. With a discounted cash flow analysis, it is possible to conclude that it is priced for perfection. Any earnings disappointment would result in a collapse in the stock price in my opinion.
Firstly, it is interesting to compare the value attributed to each restaurant. As I said earlier, Shake Shack has 74 restaurants around the globe. With a market capitalization of approximately $1.5 billion, it is possible to calculate a value of $20.27 million for each location.
Chipotle Mexican Grill (NYSE:CMG) serves a menu composed of burritos, tacos and salads for example. Based on the most recent quarterly reports, it owns 1,847 restaurants throughout the United States and 19 in others countries. Consequently, the firm operates a total of 1,866 restaurants. With a market capitalization of $22.3 billion, the market attributes a value of $11.95 million for each location.
McDonald's (NYSE:MCD) is evidently more mature, but it is perfectly comparable in my opinion. In fact, the menu of Shake Shack and McDonald's are extremely similar. The well-known corporation owns 36,368 restaurants across 119 countries. Based on a market capitalization of $98.8 billion, the value for each location is equal to $2.72 million. The following table summarizes these numbers.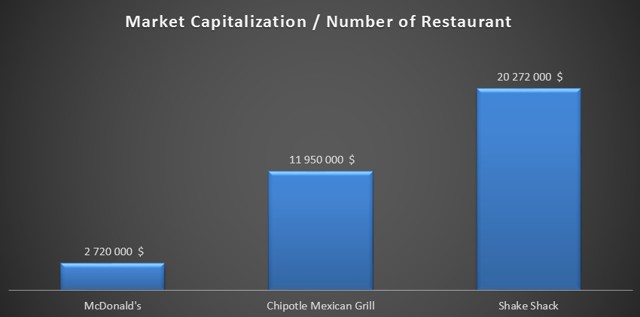 Is one Shake Shack restaurant worth 10 times more than a McDonald's location? I don't have the answer, but every investor interested in buying a position in Shake Shack should consider this number. Evidently, McDonald's is a mature firm and Shake Shack is a tiny player with exponential growth. However, I am interested in cash flow. As I said in a precedent article, I firmly believe that cash is king.
So, a...
More