In 2013, Poland passed a reform designed to increase the retirement age to 67 for men (beginning in 2020) and 67 for women (beginning in 2040). The idea, plain and simple, was to save the government money and reduce its fiscal deficit.
Nonetheless, earlier this month, Poland decided to pass a counter-reform by bringing forward the retirement age in the country, capitalizing on one of the campaign promises of President Andrzej Duda and his party, which also controls parliament. The economic impact of the bill's passage will start being felt beginning in 2018 with an increase in public pension expenditures equal to 0.5% of GDP, or $2.5 billion in equivalent dollar terms.
In Poland's case, this is a notable economic event given the demographic situation in the country, with the second fastest-aging country in all of Europe (only behind Slovakia).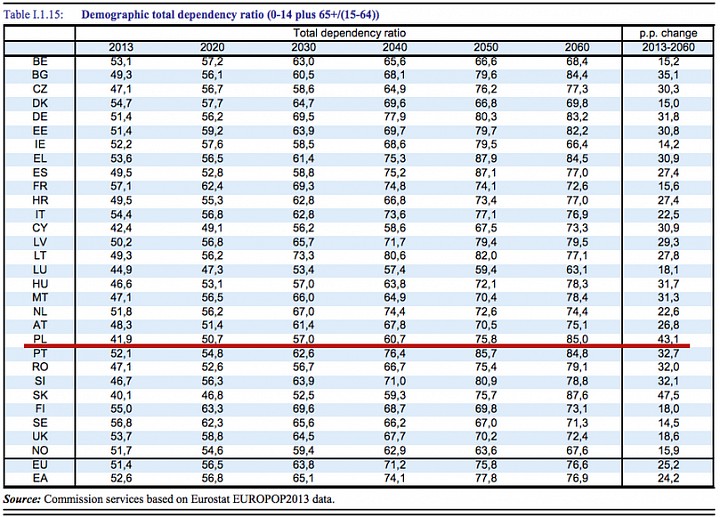 Currently, there are 5 working-age citizens (defined as those between the ages of 15-64) for every 1 pensioner. By 2060, there will be just 3 working-age persons for every 2 pensioners. Accordingly, the sustainability of the country's social security system will be very much challenged if the retirement age lowering stays in effect for any appreciable amount of time.
Poland recently emerged from an "excessive deficit procedure," wherein its budget deficit remained at an elevated rate, beyond the provisions of the Maastricht criteria (3% of GDP, with some exceptions here and there). This led to a period of public spending restrictions. Given the tangible impact the social security strains will have on the budget, and the fact that Poland is currently teetering along the 3% (of GDP) budget deficit mark, the lowering of the retirement age could bring excessive budgetary pressures back into the fray.
With the general effect on Poland's labor force participation rate and potential GDP, by constraining the labor supply, this does not represent a positive development for the country's currency (the zloty), nor its credit or equity markets.