Alibaba Group Holding Ltd. (BABA - Get Report) smashed Wall Street's estimates for sales during this year's Singles' Day, owing in part to its much-touted "New Retail" strategy of combining online and offline sales.
The Nov. 11 event, which has grown to become an online shopping bonanza, raked in $25.3 billion in gross merchandise volume, Alibaba said. That exceeded Wells Fargo's estimate of $21 billion in GMV and broke the Chinese internet giant's own record of $17.8 billion, set during last year's Singles' Day.
It also continues to surge past estimates for the Black Friday/Cyber Monday shopping period. Adobe expects there to be $19.7 billion in sales between Thanksgiving and Cyber Monday this year.
Since the shopping event was first introduced in 2009, Alibaba has increasingly expanded Singles' Day promotions on a global scale, thanks in part to its $2 billion investment in Southeast Asian online retailer Lazada Group SA. This year, another big growth driver stemmed from Alibaba's ongoing New Retail initiative, an idea that Alibaba co-founder Jack Ma has been promoting since last year. New Retail aims to connect online and offline businesses, while digitizing some operations at physical stores to provide a more seamless customer experience.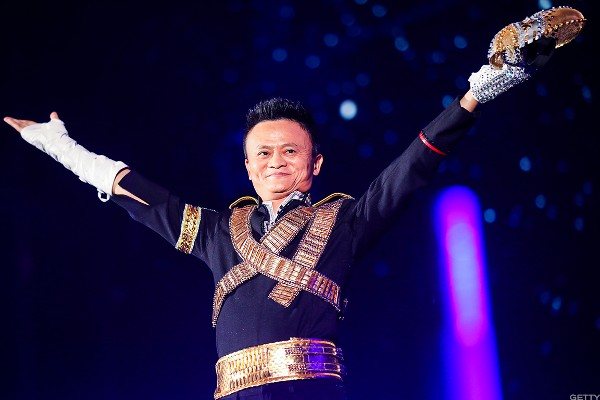 It's unclear how much sales were generated by brick-and-mortar locations on Singles' Day. Alibaba noted, however, that on Singles' Day, 167 merchants each generated more than $15.1 million in sales, 17 merchants brought in more than $75.4 million and six merchants generated at least $150.9 million.
Alibaba CEO Daniel Zhang said previously that Singles' Day would be used to showcase how retailers are "embracing the internet and technology" to make the transition from offline to online. Through its New Retail strategy, Alibaba is aiming to capture part of the 82% of Chinese retail sales generated by brick-and-mortar retail.
The blowout Singles' Day results overall should bode well for Alibaba's China commerce segment in the December quarter. R.W. Baird analyst Colin Sebastian estimates that the results could fuel 48% growth in China commerce revenue year-over-year.
"While offline-influenced sales are still likely a small portion of overall volume, Alibaba's persistent knowledge of consumer purchase/viewing/browsing activity can be utilized to drive in-store traffic to merchant partners and to Alibaba 'pop-up' stores," Sebastian added.
For this year's event, Alibaba partnered with 1,000 brands, such as L'Oréal and Procter & Gamble (PG - Get Report) , to create 100,000 "smart" pop-up stores around China. The pop-up stores converted physical stores into hubs that recommend products and offer discounts to shoppers, along with virtual fitting rooms. Nike (NKE - Get Report) said it opened two smart stores in Shanghai and Hanghzou, while fulfilling online orders at 10 distribution centers and 50 Nike Direct stores to close the gap of last-mile logistics with consumers.
On top of that, Alibaba digitized more than 500,000 mom-and-pop stores around China to let them sell goods on Singles' Day via its "Lingshaotong" initiative, which translates into English as "Retail Integrated."
"It's bringing them into the ecosystem of 11/11, but also allowing them to participate in the New Retail concept," said Alibaba president Michael Evans in an interview with TheStreet.
Another facet of Alibaba's online-to-offline experience, Hema, was a part of Singles' Day. The "smart" grocery stores let users order produce on the Hema app and have it delivered to their home within 30 minutes, among other things.
A key part of New Retail is our Hema supermarket, the grocery store of the future. Watch how we integrate tech into grocery shopping! pic.twitter.com/Bwa1joGWn1

— Alibaba Group (@AlibabaGroup)

https://twitter.com/AlibabaGroup/status/929303203350568966?ref_src=twsrc%5Etfw
Alibaba's New Retail strategy has also started to fuel its top-line growth. During Alibaba's latest quarterly results, its "other revenue" segment, which includes New Retail, grew 180% year-over-year to $484 million, up from $91 million one year ago. It marks the first recorded revenue gains from New Retail.
More