Today (9/12) we got US Retail Sales data for August from the Census Bureau. 

Retail Sales m/m (August): 0.6%
Forecast: 0.3%
July: 0.3% (revised up from 0.0%)
Core Retails Sales: 0.3%
Forecast: 0.2%
July: 0.3% (Revised up from 0.1%)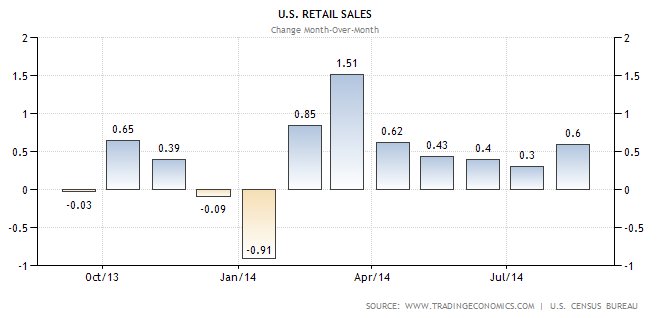 (source: tradingeconomics.com)

The August reading is the strongest in 4 months, and breaks a trend of declining growth. 
The USD had a muted reaction to this positive data. Perhaps it needs to consolidate further. When we look at the 1H USD Index Chart, we can see that price has been consolidating in a triangle, with the 100-, and 50-hour SMA converging around 84.25. Price is right in the middle of this triangle, and traders initially sold the USD immediately after the retail sales data. This is an early sign that USD may be due for a correction - that the strong US data would fail to propel USD higher. 

USDX 1H Chart 9/12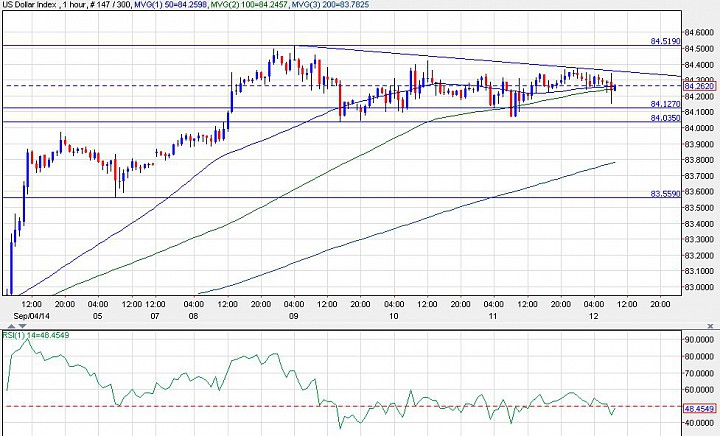 (click to enlarge)
Still, we need to see a break below 84.00 to show a price top in the form of a descending triangle. The 1H RSI should also break below 40 if we are going to see a bearish correction in the USD. 
If you take the width of this week's consolidation (84.03 to 84.5 or about 50 pips), and project it below 84.03, we would see a breakout projection toward 83.53, which is right around the previous support pivot at 83.56. We can say that if price breaks below 84.00, a very short-term bearish outlook can be projected to 83.50-83.60.