Summary
Medivation will be acquired by Pfizer.
The price is rather high.
Gilead will find better ways to utilize its cash pile.
Buying Medivation, which sells Xtandi for 129,000 per treatment, would have meant additional pressure from politicians and NGOs.
Medivation (NASDAQ:MDVN) will very likely be acquired by Pfizer (NYSE:PFE) in a deal that values Medivation at $14 billion and that is expected to close by the end of the year. Gilead (NASDAQ:GILD) has been rumored as one of the companies interested in acquiring Medivation, along with others such as Sanofi (NYSE:SNY), Merck (NYSE:MRK) and Celgene (NASDAQ:CELG).
Let's look at the deal, Medivation and Gilead's decision not to acquire the company, despite having the means to do so.
When we look at the market reaction, we see that Medivation is the big winner here (obviously), with its share price rising 23% over the last five days. Gilead's decision not to buy Medivation seemingly was not a bad one (according to the market), as its share price had the best performance among those companies interested in a deal. Merck, Celgene, Pfizer and the biotech industry as a whole (NASDAQ:IBB) have a flat performance over the last few days, in a market with very low volatility. The only loser (according to the market) seems to be Sanofi, whose shares are down 1.5% over the last days. I believe this can be explained as there apparently was some hope left that Sanofi could get Medivation at the price the French drug maker had bid for Medivation, but now it is clear that this will not happen. It is interesting that Pfizer's shares did not move in any direction, the drug giant's owners apparently view this deal in a rather neutral way.
Xtandi (used to treat prostate cancers), Medivation's biggest drug, is poised to become a big success globally: Analysts expect sales of $5.7 billion by 2020 (globally), which would make Xtandi one of the biggest drugs on the market. Medivation does not get all of Xtandi's revenues though, US revenues are split with Astellas (OTCPK:ALPMF), whereas International (i.e. non-US) revenues belong to Astellas completely. The sales belonging to Medivation thus will not reach anywhere close to $5.7 billion in the next years. Medivation's sales are expected to come in at $900 million in the current year, whereas the consensus forecast for 2017 sees sales of $1.2 billion. Pfizer thus is paying about 15 times 2016's revenues and about 12 times forward revenues for Medivation.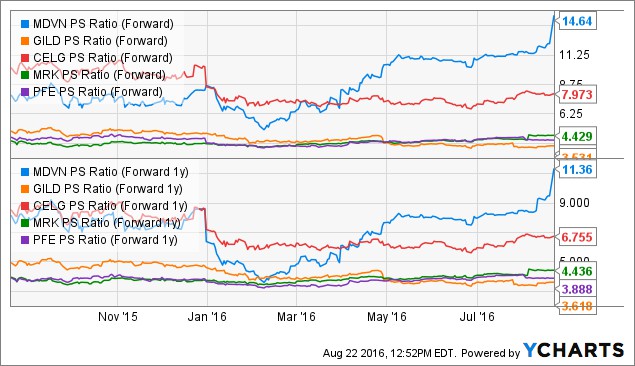 This makes Medivation the most expensive among the companies interested in the deal by far, the second most expensive, Celgene (which has a...
More