If Bild's expectation that its "Nein to more Greek bailout" campaign would lead to a near unanimous vote in the Bundestag for a Greek bailout, then it achieved its goal when a massive majority of lawmakers, some 542 of them, voted in favor of giving Greece the prenegotiated 4 month extension to its current bailout. Still, as many pointed out, of the 32 votes against, a record margin for a euro vote, or 29, came from Merkel's own CDU/CSU block. This was up from 13 voting against the second Greek bailout. Indeed, as the
https://twitter.com/traynorbrussels/status/571279095348256768
summarizes "Merkel's biggest majority on Greece but also biggest rebellion in her ranks while linke votes for Syriza pals, also a 1st."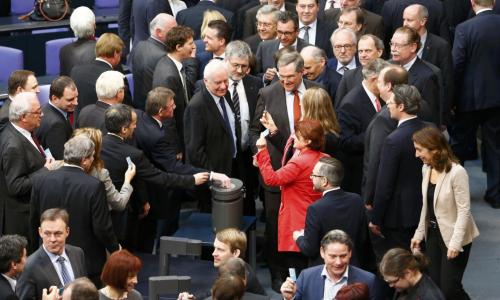 As a result, FT described the post-vote situation as one where Merkel has suffered "substantial rebellion" within her own ranks:
Germany's chancellor Angela Merkel faced dissent over her eurozone rescue policy on Friday after 32 legislators voted against extending Greece's bailout.

 

While the four-month extension passed with a comfortable majority of 542 out of 587 lawmakers in the Bundestag who voted, there was a substantial rebellion within Ms Merkel's Christian Democratic Union and sister party the Christian Social Union. There were 13 abstentions.

 

Dissent in the Bundestag has swelled since the vote over the passage of the second Greek bailout in 2012, when 13 members of her Christian Democratic bloc and four members of coalition partners, the Free Democrats, voted against.
In any event, perhaps some lubrication to the strong Yes vote came from the German finance minister who made it very clear that despite all the pompous rhetoric from Varoufakis, Germany remains in charge:
SCHAEUBLE: GREEK PAYMENTS WON'T BE MADE WITHOUT GERMAN APPROVAL
... just in case there was any doubt if Greece may be on route to finally regaining its fiscal sovereignty. He continued, taking a poke at the Op-Ed written by Varoufakis two weeks ago, and the reference to Immanuel Kant:
Finance Minister Wolfgang Schäuble had earlier told MPs that he was not asking for a "change" to Greece's bailout programme, but an extension "to successfully bring it to an end". He added that while there was flexibility in the programme, Greece could not make changes without the consent of its European partners.

 

And he said that many European countries had lower minimum wages and living standards than the Greeks.

 

"The Greeks should think about that when they call for solidarity," he said.

 

Taking flight into philosophy, Schäuble called on his colleagues to remember that Germany is "the land of Immanuel Kant". "When we come to a reasoned decision, we should think: what would happen if everyone made this decision?"

 

Since Germany was better off than many other countries, it should bear some of the burden of solidarity, he said.
As the Local.de adds "the speech served to illustrate the balancing act the German government is performing, standing as it does between the need to keep  Europe and the single currency together and irritation with what it sees as unreasonable demands from the new Greek government. Other European countries share Germany's tough attitude, but tough talk from Europe's effective paymaster has sparked bitter exchanges with the hard-left government of Prime Minister Alexis Tspiras since elections last month."
Following the Bundestag approval, Greece now has until the end of June to satisfy its lenders, and receive the final payment from its bailout programme, worth €7.2bn. That programme was due to expire on Saturday, until the eurogroup and Greece agreed a four-month extension last week. This vote doesn't actually unlock any more money, though, which is a problem for the Greek government which may have stopped the bank run and the deposit flight, but as a result of massive tax undercollection, the government itself has no money left, and needs yet another, third, bailout.
This will certainly not please ordinary Germans, because while the Bild campaign achieved nothing in the Bundestag, the German people are quite happy to let Greece drop dead:
Schäuble urged fellow conservative deputies to back the bailout reprieve on Thursday despite his "disbelief" at renewed comments from his Athens counterpart.

 

That disbelief is shared by the public, just 21 percent of whom agreed with the idea of continuing to help Greece in a poll this week.

 

"No more billions for the greedy Greeks!" demanded mass daily Bild on Thursday, printing a huge "Nein!" (No), which it urged readers to hold up for selfies, some of which it published on Friday.
This means that when it comes to the broader population, the impact of the tabloids is far greater than that of the high-brow, statist publications such as Spiegel, which countered with its own "Yes! Yes! Yes!" campaign:
A contrary "Yes! Yes! Yes!" was the response in commentary on news site Spiegel Online. "We need ... a loud 'Yes' to the euro, to Europe and to the legacy of Helmut Kohl," it said, referring to Germany's ex-chancellor, a driving force behind European enlargement and integration after the fall of the Berlin Wall.
So with that the can has been officially kicked... to next week, when as reported yesterday, Greece may decide that the farce has gone on lone enough, "delay" a debt payment to the IMF and finally be in default, some 5 years long overdue.