If someone asked you what the worst performing stock market in the world was in August, you might well be tempted to say the SHCOMP or the ASE, considering the fanfare around China's equity turmoil and the fact that Greek stocks plunged after coming off a five-week halt. 
But what you might be surprised to learn is that in fact, Saudi stocks fared worse than Chinese equities for the month and one more Sunday like 8/23 could well have brought the total slide to more than 20%, just a shade better than Greek shares.
Of course the comparison is distorted by the fact that the ASE was halted until August 3 and also by the fact that were it not for the efforts of China's plunge protection "national team" there's no telling where the SHCOMP might be today, but nevertheless, it serves to underscore how nervous investors are getting about what is an increasingly perilous financial situation in the kingdom.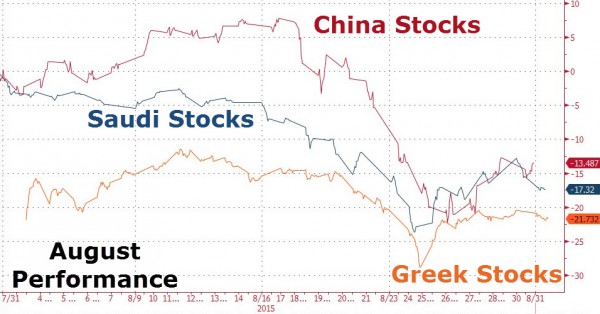 As detailed here on a number of occasions of late, the country is staring down a current account/ fiscal account deficit outcome that makes Brazil look favorable by comparison, and although FX reserve draw down slowed in July, it came at the cost of reentering the bond market - i.e. raising debt to offset the petrodollar burn. 
"A cloudy fiscal policy along with unattractive economic data and oil prices continuing to decline fueled negative sentiment about the market which exaggerated fears among investors," Mohammed Al-Suwayed, Riyadh-based head of capital and money markets at Adeem Capital told Bloomberg. "There hasn't been any official statement from King Salman on his fiscal policy or its direction, but all indications point toward a possible contractionary fiscal policy."
"Indications" like the fact that Saudi Arabia is conferring with advisers on how to rein in spending without triggering social unrest. 
Meanwhile, intervention in Yemen - which recently escalated meaningfully - doesn't come cheap and indeed, Saudi airstrikes on supposed Houthi targets have at times served to do reputational damage, something which also does nothing to shore up investor confidence. Case in point, from Reuters on Sunday: 
An air strike by warplanes from a Saudi-led coalition, which said it targeted a bomb-making factory, killed 36 civilians working at a bottling plant in the northern Yemeni province of Hajjah on Sunday, residents said.

 

In another air raid on the capital Sanaa, residents said four civilians were killed when a bomb hit their house near a military base in the south of the city.

 

The attacks were the latest in an air campaign launched in March by an alliance made up mainly of Gulf Arab states in support of the exiled government in its fight against Houthi forces allied to Iran.

 

"The process of recovering the bodies is finished now. The corpses of 36 workers, many of them burnt or in pieces, were pulled out after an air strike hit the plant this morning," resident Issa Ahmed told Reuters by phone from the site in Hajjah.
The Saudi response: "We got very accurate information about this position and attacked it. It is not a bottling factory." 
Ultimately, one gets the idea that the Saudis have yet to fully accept the gravity of the situation. They're running a budget deficit that amounts to 20% of GDP and it certainly looks as though the only saving grace - in the absence of a sustained rally in crude which the Saudis are apparently determined to single-handedly prevent - is the fact that debt-to-GDP is negligible, meaning there's plenty of room to tap the bond market for cash and relieve the pressure on the SAMA stash.
Even so, this situation, like that facing a host of other commodity-dependent emerging markets, is getting quite precarious, and for the Saudis it's complicated by participation in two regional proxy wars and the absolute necessity of maintaining social order.