WTI Crude Oil (USDWTI) has been bearish to neutral. I think it is bearish especially after breaking below the 45.85 support pivot. This essentially established a price top, and opened up a bearish correction scenario.

USDWTI 4H Chart 7/20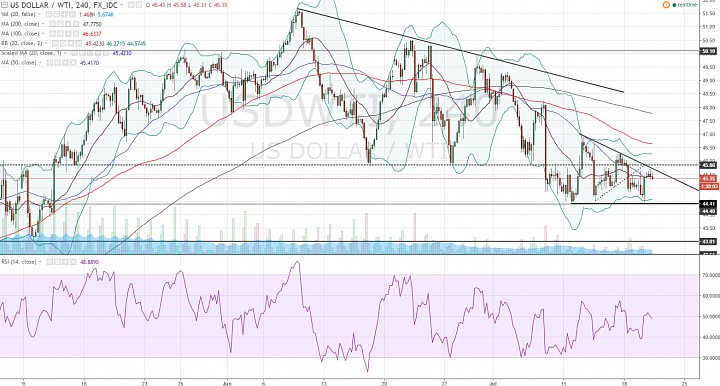 (click to enlarge)
Consolidating after triangle breakout:
The price top I referred to before is the large descending triangle seen in the 4H chart. 
Note that after the breakout, we saw USDWTI consolidate in a symmetrical triangle.
This symmetrical triangle has turned into a descending triangle with support at 44.40. 

Scenarios: 
- A break below 44.40 should open up further bearish correction.
- But a break above 45.85 would show a resilient oil market with upside back to 47.00. 
- The scenario of rallying to 47.00 is in the short-term time-frame.
- The bearish breakout from the larger triangle would still be in play as long as price holds under 47.00. 
- A break above 47.00 on the other hand could challenge the medium-term bearish correction outlook.
- But I think a break above 48.25 will be needed to open up a bullish continuation scenario in the medium-term.