Motiwala Capital letter to investors for the third quarter ended September 30, 2015.
Dear Investors,
The US equity markets (S&P 500) had a very rough third quarter of 2015 down 6.4%. It was the worst quarterly drop for US markets since Q3 2011. Motiwala Capital aggregate was down 2.4% for the quarter. Year to date S&P 500 is -5.3% while our accounts are -4.8%. Since inception, our net annualized return (after fees and expenses) has been 12.1% v/s 10.7% for S&P 500.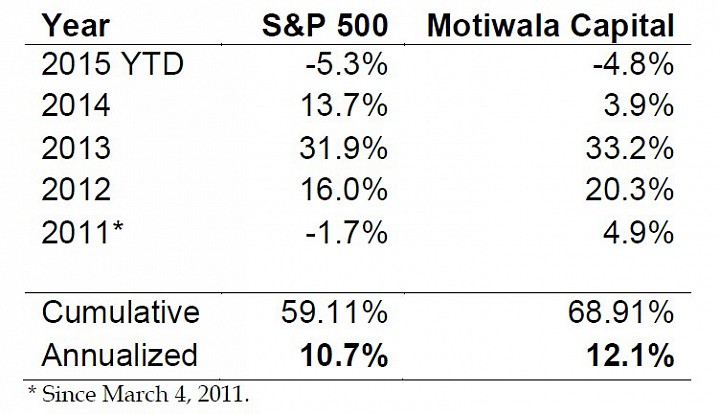 Motiwala Capital - Portfolio Composition
Our portfolios are divided into two primary sections. The 'Generals' are undervalued equity investments. We own 17 positions, cumulatively equaling 48% of the portfolio. The rest of the portfolio is invested in special situations (short term investments with a specific event that can unlock value) and cash (49%). Our cash levels increased significantly from the prior quarter after closing several positions. More discussion on cash levels to follow.
Motiwala Capital - Portfolio Activity
Special Situations: Share tenders
There were several tender offers during the quarter that were profitable and contributed positively to portfolio performance.
The Dow Chemical Company (NYSE:DOW) split-off: Dow Chemical (DOW) is merging one of its chemical businesses with Olin Corp (OLN). In this slightly more complex transaction known as a split-off, we purchased and tendered shares of DOW and in return we will receive shares of OLN at a slight discount (about 5%). Since we do not wish to own OLN beyond the transaction, we shorted equivalent shares of OLN to lock in the spread. Once the transaction completes, the received shares of OLN will close the short position.
Visteon (VC): We purchased shares of Visteon in Q4 2013 at $80. At the time, VC had a large net cash position and was selling non-core businesses. VC recently completed the sale of all but one business and is sitting on a large $2.5B+ cash position out of a $4B market cap. VC intends to return most of that back via dividends, buybacks and debt reduction. Our thesis has played out and we have sold our final batch of shares at $102.6. The VC warrants were also sold in the quarter.
Generals: Portfolio exits:
We exited several positions in this quarter. Most of the sales were profitable and significant investments.
GameStop Corp. (NYSE:GME)...
More