The EUR/USD was able to climb sharply to levels not seen since January. The daily chart shows the strong price action that has shifted the prevailing bearish-neutral mode to possibly a neutral-bullish mode. 

EUR/USD Daily Chart 8/27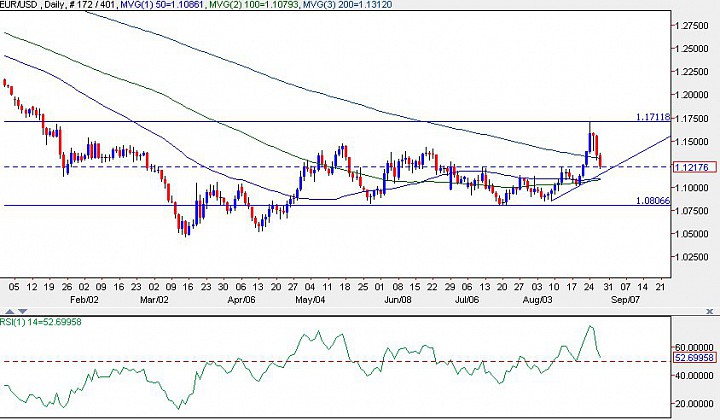 (click to enlarge)

Now, from a fundamental standpoint, I feel that there is going to pressure downwards that will keep the EUR/USD from going into a bullish trend. However, I can't ignore the recent price action. Even if the medium-term mode is still slightly bearish, there is too much short-term bullish momentum for me to sell. Perhaps, if the market shows more evidence of resistance around 1.17, I will consider selling again. But for now, I want to look for support when price comes down near 1.11, where price will test the 100- and 50-day simple moving average as well as a rising trendline. Actually, price will likely test that trendline closer to 1.12. 

I am considering looking for evidence of support in this 1.11-1.12 area in the 4H and 1H charts. IF price goes right through, I will have to stand aside again until more clues and the next setup.