Shares of BMY could find support soon. Stock price plunged after "the company announced its Opdivo drug had failed a trial evaluating its efficacy as an alternative treatment to chemotherapy in lung cancer patients. Specifically, the potential blockbuster drug failed to effectively demonstrate that it slowed the progression of advanced lung cancer in patients." (Benzinga)
BMY Weekly Chart 8/24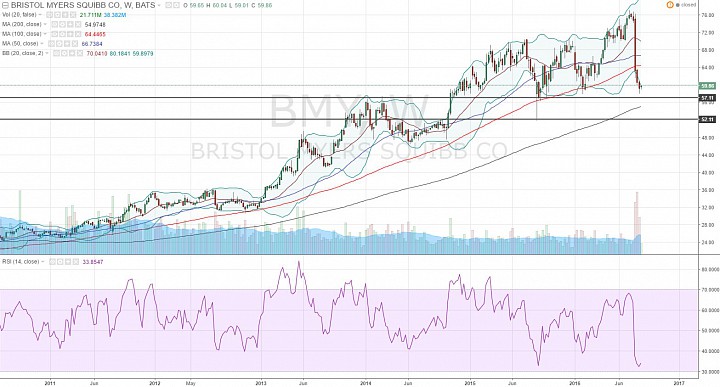 (click to enlarge)
Critical support:
- The 20+% sell-off is dragging BMY to a critical, common support area in the 56-57 area. 
- The weekly chart shows that this is a support/resistance pivot area going back to 2014. 
- I think we will see some buyers here.

Bullish scenario:
- The upside for me is first limited to 70.00, common highs in 2015 and 2016. 
- Above 70, 76 is the next target. 
- These targets are within the context of a sideways market. 
- The prevailing uptrend is bullish and is still intact. However, in the case that BMY is starting to trade sideways, we don't want to automatically assume there is further upside above 76. 
- Let's anticipate the support around 56-57 and look for an attempt to swing back to 70 and maybe 76.