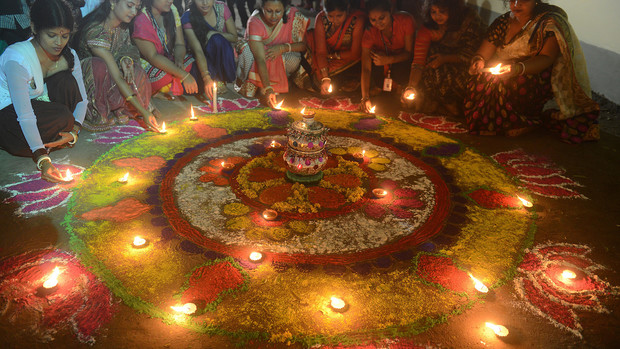 Photographer: Diptendu Dutta/AFP/Getty Images
Indian women pose with earthen lamps ahead of Diwali, the Hindu festival of lights
Shweta Anand took half a day off work to get a jump on India's jewelry shopping spree before the Hindu festival of Diwali, and she was looking for bargains.
"The best time to buy is before the shops get crowded," said Anand, 27, as she eyed trinkets on velvet shelves at a store in Mumbai's Zaveri Bazaar, India's biggest jewelry market. "I buy some gold jewelry every Diwali. Last year, I bought earrings. This time, I am getting a chain as prices are lower." She spent 30,000 rupees ($490) on a necklace.
Even after a two-week rally in bullion, domestic prices remain 7.3 percent lower than a year ago just as sales are set to climb for the festival and wedding season. India is the largest gold buyer after China. The All India Gems & Jewellery Trade Federation said fourth-quarter imports of the metal may jump 75 percent, which Barclays Plc said may support prices.
"The appetite for gold among physical buyers in India seems to have increased," said Howie Lee, an investment analyst in Singapore for Phillip Futures Pte. "India's attachment to gold is unlikely to break. This tradition has lasted for centuries. It's a symbol of wealth or a form of investment, and the precious metal is deeply rooted in worship and culture."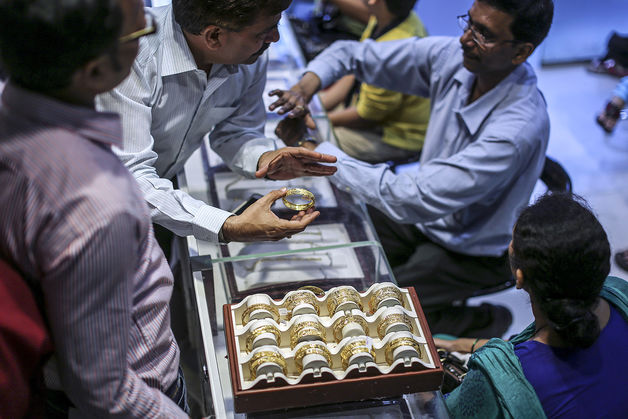 After import restrictions and a weak rupee led to a 34 percent drop in demand in the first half of 2014, purchases are set to improve in India, the world's largest buyer as recently as 2012. Retail sales of everything from rings to pendants to necklaces may rise 30 percent to 40 percent during Dhanteras, the biggest gold-buying festival, said Rajesh Exports Ltd. (RJEX), a jewelry retailer and exporter. Dhanteras is celebrated today.