The RBA meeting minutes didn't reveal anything new. The official cash rate was held at 2.50% without much opposition. The bank continues to offer the rhetoric that the strong AUD is partly to blame for Australia's slow economic recovery, and rightly so, but this has been a recurring theme. Still it should keep the bulls away even if it does not cause more sell-offs.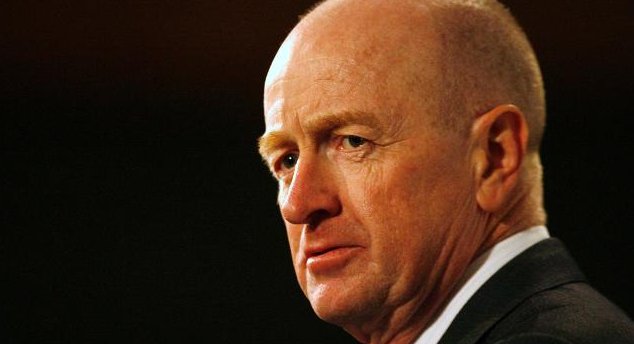 RBA Governor, Glenn Stevens. Source: news.com.au

However, we are seeing double bottom attempts in AUD/USD and AUD/JPY, showing that the AUD might want to consolidate or form a bullish correction.
The AUD/USD still has to break above 0.9060, and pull the 1H RSI above 60 to complete the double bottom and to show loss of bearish momentum. The upside risk is toward 0.92. There might be some volatility surrounding tomorrow's FOMC meeting. If price can stay above this week's low of 0.8983, then we might still have a price bottom development, with upside risk towards 0.92.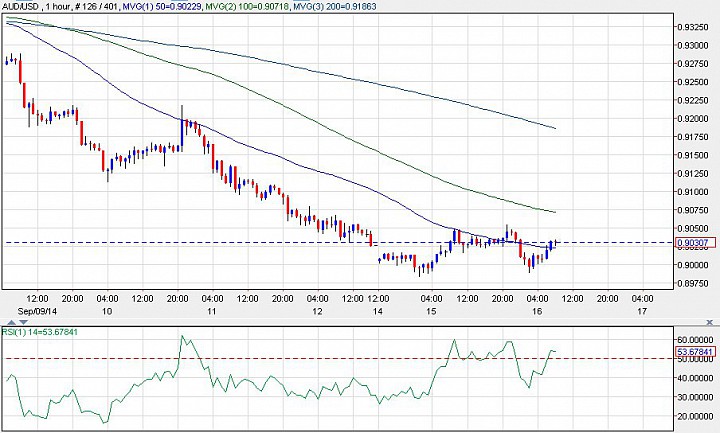 AUD/USD 1H Chart 9/16

The AUD/JPY is also in a double bottom attempt. A break above 96.90 should complete the price bottom. And we would like to see the 1H RSI break above 60 as well. While the near-term upside target could be 97.26, the double bottom might have a larger implication.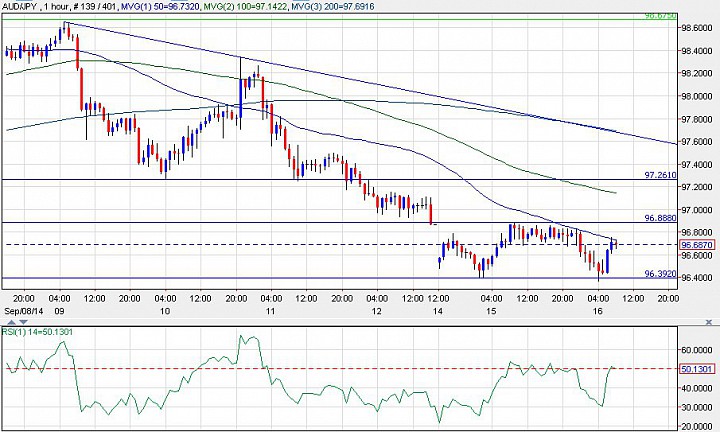 AUD/JPY 1H Chart 9/16
When we look at the daily chart, we can see that if price can rebound this week, AUD/JPY will be respecting the previous consolidation resistance as support. We saw a bullish breakout from the multi-month consolidation in August, after which AUD/JPY made fresh highs on the year up to 98.67. So, if this consolidation resistance area becomes support, AUD/JPY could be in bullish continuation, or at least be poised to challenge the 98.67 high on the year.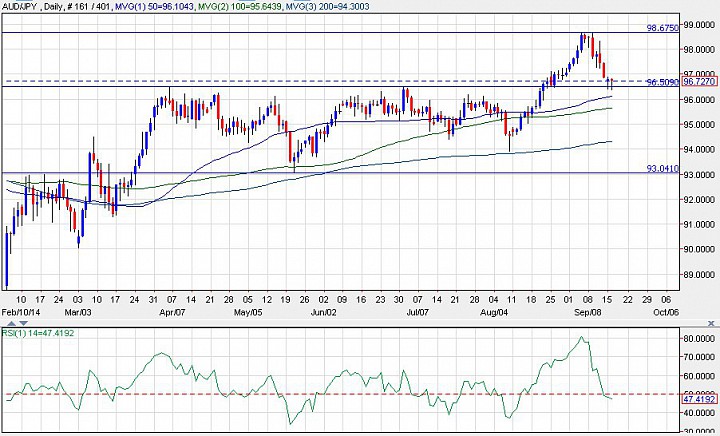 AUD/JPY Daily Chart 9/16