U.S. telecom behemoth Verizon Communications Inc. VZ recently faced data violation, wherein records of 14 million customers were exposed. An employee of NICE Systems left the data on an unsecured Amazon S3 storage server, making it vulnerable to threats from any external party. NICE Systems is an Israel-based company, which aids Verizon to facilitate customer service calls.
Verizon cites a misconfigured security setting on the server as the cause of violation. The company confirmed that it was informed about the incidence prior to any kind of loss or theft of customer information. The threat was detected by a researcher who has exclusive access to the cloud storage area apart from Verizon or any of its vendors.
The records include customer's name, mobile number and account PIN. It also has customer's residential address, email address and their Verizon account balance. Anyone with access to the records could have theoretically breached these subscriber details.
Verizon and NICE Systems are currently engaged in investigating the case. They have forwarded an apology to their customers.
This is not the first instance when a mobile carrier has suffered a data breach. In 2015, a data breach resulted in the exposure of similar information for 15 million T-Mobile US Inc. (TMUS) customers. In 2016, hackers stole data from Verizon's enterprise unit, which provides IT services to companies. The perpetrators later put the data online for sale.
Price Performance and Zacks Rank
Over the past three months, share price of Verizon declined 11.11% compared with the Zacks categorized Wireless National industry's fall of 9.10%.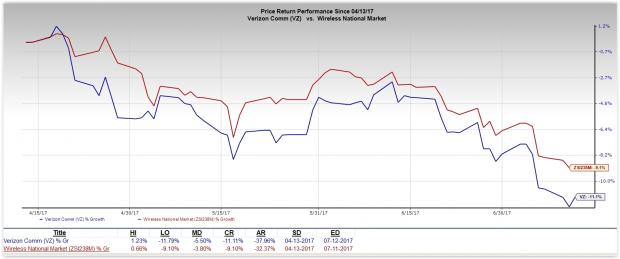 Notably, Verizon operates in a highly competitive and saturated wireless market. In such market conditions, spectrum crunch has become a major issue in the domestic telecom industry. The company's wireline division has been struggling with persistent losses in access lines due to competitive pressure from voice-over-Internet protocol (VoIP) service providers and aggressive triple-play (voice, data, video) offerings by cable companies. Moreover, operating expenses, marketing costs associated with attractive discounts, regulatory norms and union issues act as major headwinds. We believe that such negative aspects have led to the company's current Zacks Rank #4 (Sell).
You can see the complete list of today's Zacks #1 Rank (Strong Buy) stocks here.
Recent Events
As of recently, Verizon is considering licensing consumer data from other leading telecom operators. Advertisement on mobile video platform is gradually shifting from banner ad sales to automated ad sales. Verizon plans to create an innovative digital advertisement platform that can challenge tech giants like Alphabet, Facebook and Twitter.
The company wants to access a significant chunk of wireless consumer data that can be used for ad targeting. To this end, it is exploring the possibility of a data partnership with its peers, such as T-Mobile US, Sprint Corp. S, Telefonica SA TEF and Vodafone Group plc. VOD .
More Stock News: This Is Bigger than the iPhone!
It could become the mother of all technological revolutions. Apple sold a mere 1 billion iPhones in 10 years but a new breakthrough is expected to generate more than 27 billion devices in just 3 years, creating a $1.7 trillion market.
Zacks has just released a Special Report that spotlights this fast-emerging phenomenon and 6 tickers for taking advantage of it. If you don't buy now, you may kick yourself in 2020. Click here for the 6 trades >>
Want the latest recommendations from Zacks Investment Research? Today, you can download 7 Best Stocks for the Next 30 Days.
Click to get this free report
Telefonica SA (TEF): Free Stock Analysis Report
Sprint Corporation (S): Free Stock Analysis Report
Verizon Communications Inc. (VZ): Free Stock Analysis Report
Vodafone Group PLC (VOD): Free Stock Analysis Report
To read this article on Zacks.com click here.
Zacks Investment Research