I recently completed an ETF Monkey Focus article on international developed market ETFs for Seeking Alpha. I included the iShares Core MSCI EAFE ETF (IEFA) in that 3-ETF comparison. In my comments on IEFA, I wrote:
IEFA offers extremely comprehensive, unbiased exposure to developed markets. It tracks the MSCI EAFE IMI index. In addition to large and mid-cap companies, it extends down into smaller companies as well. Thus, it is a slightly broader index that the one used by SCHF and, in fact, contains almost as many constituents as the index used by VEA. This can be seen in the fact that this fund contains 2,551 holdings, as opposed to 1,233 for SCHF, and its Top-10 comprise 9.77% of its assets, slightly lower than SCHF's 10.30% and roughly in line with VEA's 9.90%.

One small disadvantage, in my view, is that the index does not cover Canada, leaving you without exposure to this sizable economy.
I am happy to report that on March 23, 2017, BlackRock rolled out the iShares Core MSCI International Developed Markets ETF (IDEV), a new core ETF for their iShares family that addresses this omission. This ETF will track the performance of the MSCI World ex USA Investable Market Index, which is comprised of small-, mid- and large-cap developed market equities outside the United States. As a result, this ETF offers access to some 22 countries. From a sector perspective, IDEV tilts toward consumer discretionary, financials and industrials.
Here's a quick look at the Top 12 countries represented in this new ETF.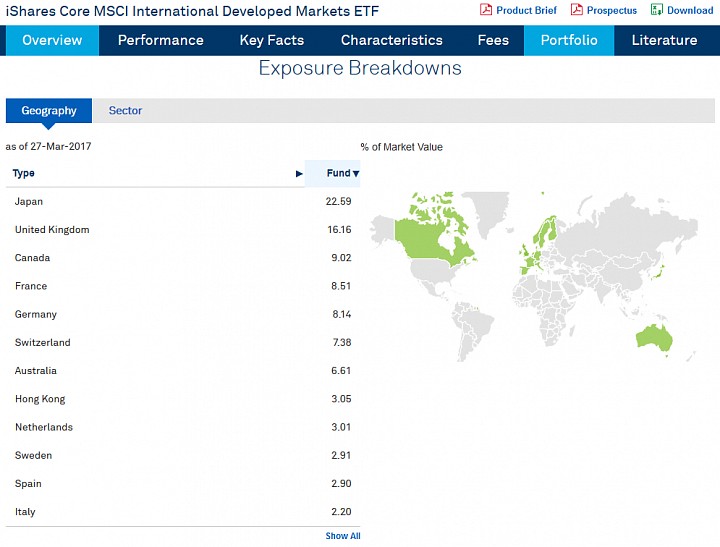 As a result of the inclusion of Canada, this new ETF becomes even more of a direct competitor to the Vanguard FTSE Developed Markets ETF (VEA) and the Schwab International Equity ETF (SCHF). Its expense ratio of .07% is second only to the recently-lowered .06% expense ratio now offered by SCHF.
While this is a new ETF, I have no doubt it will become a valuable addition to the iShares family of core ETFs.