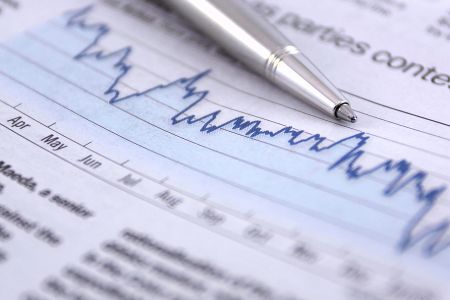 Years ending in "7" have consistently been negative for the Dow Jones Industrial Average between now and November.
**NEW** As part of the ongoing process to offer new and up-to-date information regarding seasonal and technical investing, we are adding a section to the daily reports that details the stocks that are entering their period of seasonal strength, based on average historical start dates.   Stocks highlighted are for information purposes only and should not be considered as advice to purchase or to sell mentioned securities.   As always, the use of technical and fundamental analysis is encouraged in order to fine tune entry and exit points to average seasonal trends.
Stocks Entering Period of Seasonal Strength Today: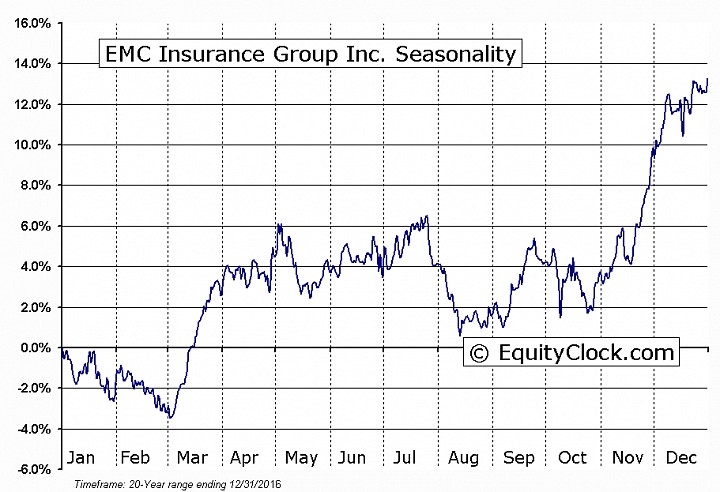 The Markets
Stocks closed mildly higher on Friday in a slight reprieve from the previous day's selling related to the heightened tensions between the US and North Korea.  The S&P 500 Index added three points, testing its rising 50-day moving average at the highs of the session.  As mentioned in our last report, the 50-day moving average is a level that investors tend to run to in times of uncertainty, such as pivotal announcements, reports, or, in this case, geopolitical turmoil.  Should things sour further, a retracement down to the 100 or 200-day moving averages may be appropriate in order stabilize the price action and re-entice the bulls to initiate new equity positions.  Despite noting the break of rising trendline support in our previous report, we are still a ways away from establishing a trend of lower-lows and lower-highs, the definition of a negative trend. For now, higher-highs and higher-lows remain intact.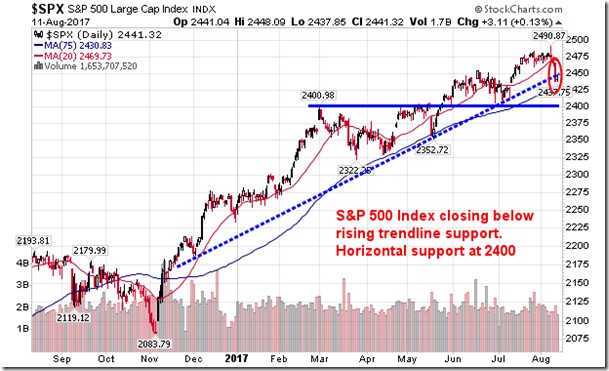 Turning to the weekly chart of the large-cap index, the 1.43% decline on the week is the second worst weekly return of the year, thus far, just short of surpassing the 1.44% drawdown recorded in the week ending March 24.  The relative strength index (RSI) fell from its overbought position, triggering a sell signal for the first time since mid-June. MACD is showing a similar bearish cross, negatively diverging from price for the past five months, an indication of waning buying pressures.  The large-cap benchmark has now gone 40 weeks without testing its 50-week moving average, the longest span since 2015 when the benchmark corrected sharply in August and September.  Seasonal tendencies for equity markets remain negative through September.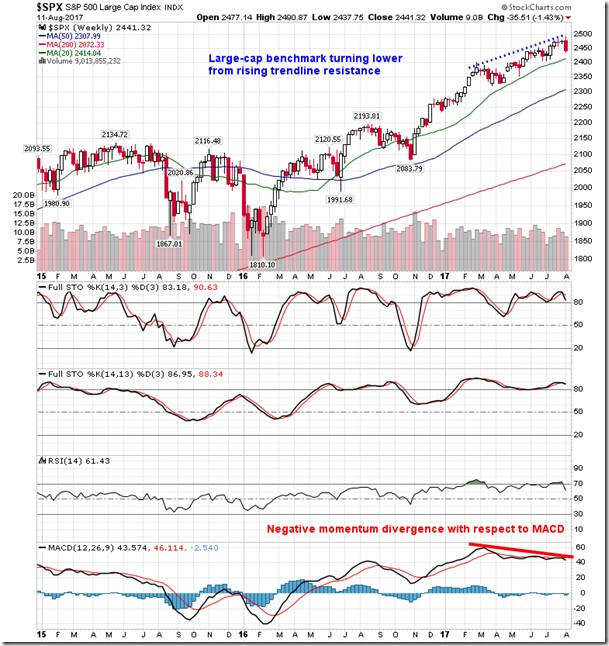 With stocks correcting sharply last week, a number of publications have been released profiling the tendency for equity benchmarks to average a significant peak around the start of August for years ending in "7".  A similar tendency, albeit less dramatic, is apparent during post election years.  Below are the charts profiling the average performance of the Dow Jones Industrial Average in each of these scenarios.  Between August 2nd and November 9th for years ending in "7", the Dow Jones Industrial Average has lost an average of 12.42% with not a single year positive in the last eight instances.  The largest drawdowns were recorded in 1937 and 1987 when the blue-chip benchmark lost 32.5% and 26.12%, respectively, over the almost 100 day span.  Keep in mind that each correction recorded under this scenario has followed a period when the annual return topped 20% over a number of consecutive years and the subsequent retracement was part of a healthy progression of a longer-term trend of higher-highs and higher-lows.  While we have not seen an annual gain for the Dow Jones Industrial Average toping 20% since 2013, the blue-chip benchmark is similarly "unchecked" versus major long-term moving averages, leaving the index vulnerable to a similar retracement, albeit not as large in magnitude.  Other fundamental factors were also in play back then, many of which are not being seen at present.  One thing is consistent no matter how the data is sliced-and-diced throughout history: volatility.  Volatility can send stocks on a wild ride between now and October as the light news flow and conservative bias during this slower time of the year creates these erratic trading patterns that can often accompany opportunities to play either direction.  Volatility peaks, on average, in the month of October, allowing for the more steady and consistent trend for stocks between November to April.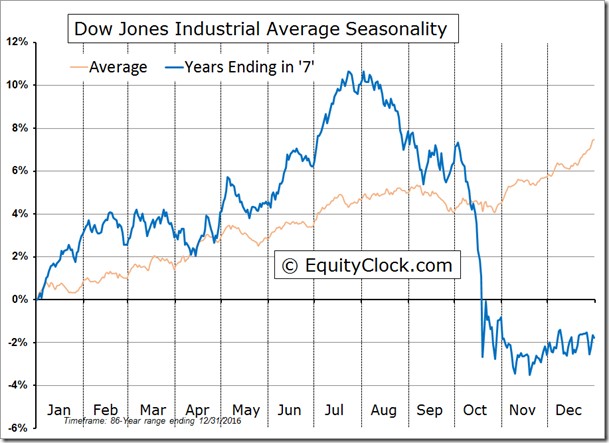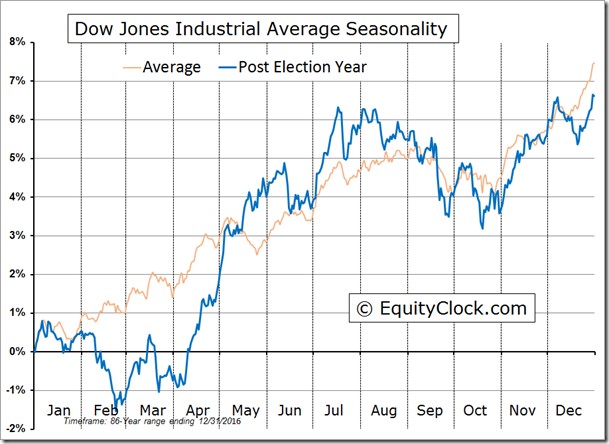 Sentiment on Friday, as gauged by the put-call ratio, ended close to neutral at 0.97.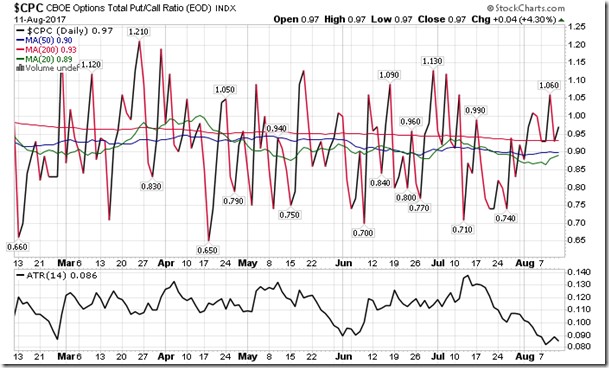 Seasonal charts of companies reporting earnings today:
S&P 500 Index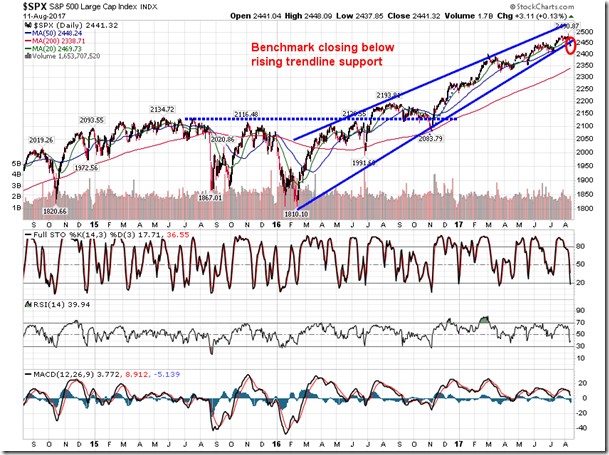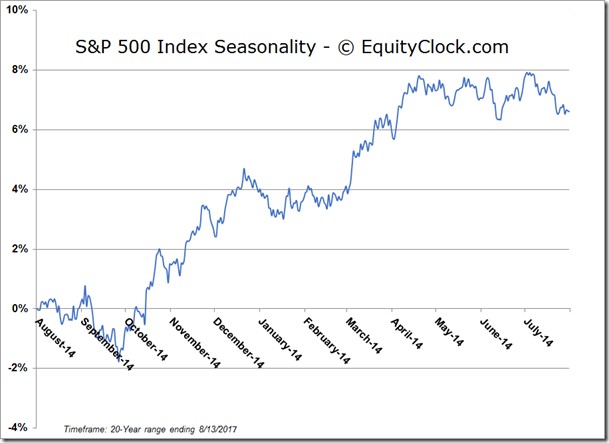 TSE Composite